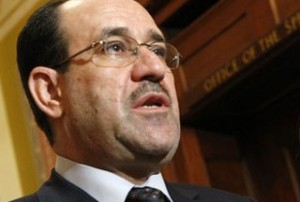 Baghdad has sharply criticized Saudi Arabia for its negative stance towards Iraq since the overthrow of former dictator Saddam Hussein's Sunni-dominated regime.
"All the signals confirm that the Saudi position is negative regarding Iraqi affairs," Prime Minister Nouri al-Maliki said in response to journalists' questions posted on his website.
"There are no positive signs on the part of [the Saudi] government," he added.
Maliki said that repeated mediation efforts by Arab and foreign nations aimed to improve relations between Riyadh and his Shia-led government had 'led to nothing'.
Maliki, however, maintained that his country nonetheless wanted good relations with the Saudi monarchy, which has not reopened its embassy in Baghdad despite the resumption of its diplomatic relations with Iraq since early 2004.
Iraq blames the region's Sunni majority powerhouse for efforts to deepen sectarian divisions in Iraq by funding and supporting extremists and al-Qaeda insurgents.
In August, Iraqi lawmakers condemned Saudi Arabia over reports on the Nahrainnet website, accusing Wahhabi Saudi Arabia of employing Ba'athists and al-Qaeda terrorists to root out the Shia faith in Iraq.
Many of the terrorists captured in Iraq are Saudi nationals who have entered Iraq illegally to embark on their self-styled 'jihad' against what they see as the domination of 'apostate' Shias, the website said.