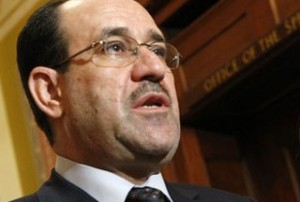 Iraqi Prime Minister Nouri al-Maliki has condemned the Vice President's veto on a key election law, describing it as a threat to democracy.
The Premier warned that the decision made by Vice President Tariq al-Hashemi poses a threat to the country's "political process and democracy", AP reported on Wednesday.
"It has no solid constitutional basis. The high national interests were not taken into consideration," al-Maliki added.
Al-Hashemi vetoed part of a key election law which was passed after several weeks of wrangling in the parliament this month.
He sent part of the law back to Parliament 10 days after the legislative body approved it, saying it should be amended to allocate more seats to Iraqis abroad.
"My objection is not to the entire law, but only the first article in order to be fair to Iraqis living abroad," al-Hashemi said.
"I hope that Parliament will hold a vote soon on the suggested amendments so that elections can be carried out at their scheduled date," he added.
The move would likely postpone a parliamentary election that was scheduled for January.
The country's election commission which has called for the elections to be held by the end of January said it has suspended preparation for the vote.
Al-Maliki, however, urged the parties to go ahead with their election preparations "without any delay."