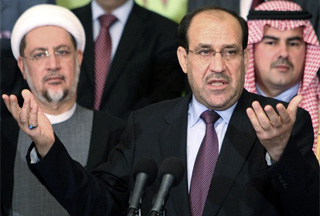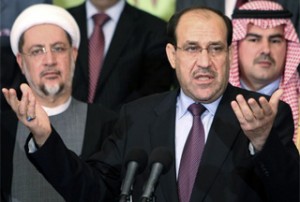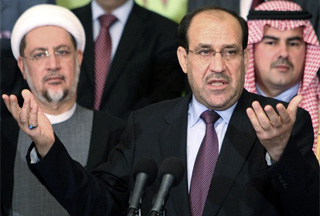 Iraqi Prime Minister Nouri al-Maliki's coalition is set to ask a court to order a manual recount of ballots cast in the March 7 polls, citing reports of fraud in two major cities.
"We are wary of the results announced by the electoral commission," government spokesman Ali al-Dabbagh said in remarks broadcast on state television on Saturday.
"We have information about cases of fraud … in both Baghdad and Mosul, and we are determined to bring [court] challenges in the coming days, to demand a recount of the votes, especially in the cities of Baghdad and Mosul," he said.
Results from the parliamentary election — Iraq's second such election since the US-led invasion of the country in 2003 — was released late on Friday with former prime minister Ayad Allawi's secular al-Iraqiya party securing 91 seats compared with the 89 won by Maliki's Rule of Law coalition.
The decision by Maliki's coalition comes amid speculations that the narrow win would lead Allawi's bloc to form alliances with former rivals in order to govern.
"We are open to all powers, beginning with … al-Maliki's Rule of Law coalition," Allawi told reporters in Baghdad.
"Iraq is not the property of any man, front or sect," he said. "It is the property of all Iraqis together."
The former prime minister said his government would seek to "turn the page" on Iraq's relations with its neighbors "based on mutual respect, non-interference with internal affairs … and shared interests."
More than 6,200 candidates from six major coalitions and several other tribal and ethnic minority groups ran for the parliamentary seats on March 7, with Allawi and Maliki deemed as the main contenders.
Prior to the Friday announcement, Maliki supporters took to the streets, echoing the call by the premier and President Jalal al-Talabani for a recount of the ballots.
Maliki, meanwhile, says that the results are not yet final.
The United Nations representative in the country, however, called the electoral process "credible" and a "success," calling on the candidates to accept the results.