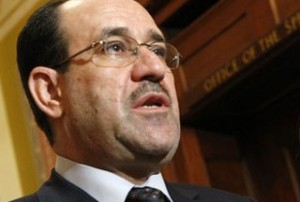 Prime Minister Nouri al-Maliki demands the Iraqi nation to exercise restraint and unite following the deadly multiple bomb attacks in Baghdad.
"I call on all Iraqis for patience, steadfastness and unity by which we altogether achieved major successes in the past years. All Iraqis from all sects have faced the most ferocious terrorist campaign supported from abroad," Maliki said in a televised live address Wednesday.
He also advised political parties against using security failures for political gain. "Such aggressive attacks should not be used for the electoral propaganda. All of us must realize that if situations get worse then it will affect all of us."
Maliki and his interior minister, Jawad al-Bulani, will appear before a special parliamentary session Thursday to how security in heavily guarded central Baghdad was jeopardized in the recent attacks that claimed the lives of 127 people.
Iraq has witnessed violence-related incidents since the US-led invasion of the oil-rich country in 2003.