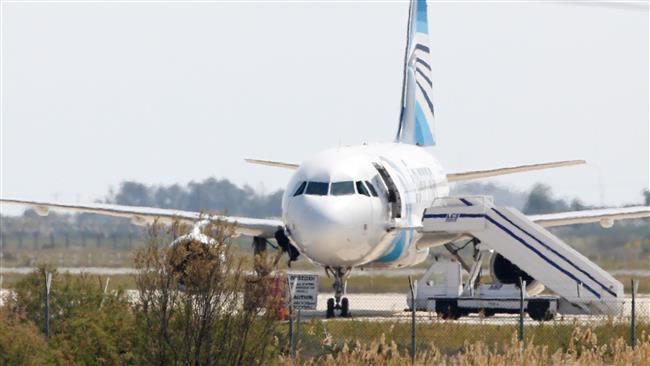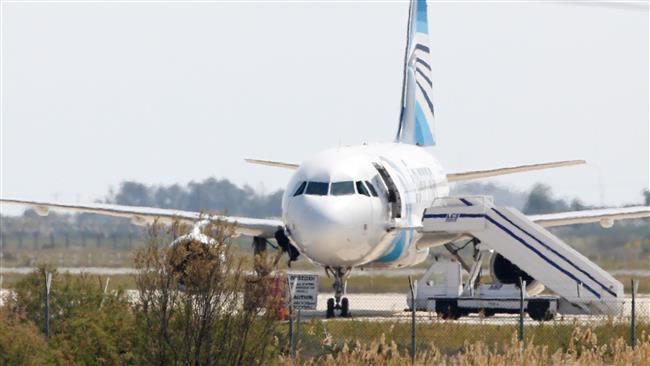 An Egyptian man who had hijacked a passenger plane operated by the EgyptAir has been arrested at Larnaca Airport in Cyprus.
"The hijacker has just been arrested," Cypriot government spokesman, Nicos Christodoulides, said in a message posted on Twitter on Tuesday.
The incident took place earlier in the day after a man, identified as Seif Eldin Mustafa, seized a plane flying from Alexandria to the capital city of Cairo and forced it to land in Cyprus.
He claimed that he had been armed with explosives and forced the pilot to divert the plane to Larnaca airport where authorities negotiated with him to set 81 people, including 21 foreigners and 15 crew members aboard the Airbus 320 flight free.
The incident ended when the hijacker gave himself up to authorities.
No one was hurt or injured in the incident while the motive behind the hijacking is still unclear.
"At some moments he asked to meet with a representative of the European Union and at other points he asked to go to another airport, but there was nothing specific," Egyptian Prime Minister Sherif Ismail said.
Egypt's Civil Aviation Minister Sherif Fathy, meanwhile, said the incident was not an act of terror and that the hijacker was not a professional.
"Our passengers are all well and the crew is all well…. We cannot say this was a terrorist act…. He was not a professional," Fathy told reporters.
However, the Cyprus Broadcasting Corporation (CyBC) reported that the hijacker had called for the release of female prisoners in Egypt.
The man reportedly has a Cypriot ex-wife and may have had personal motives for hijacking the plane.
Cyprus President Nicos Anastasiades also told reporters that the incident apparently had nothing to do with terrorism, adding, "The hijacking is not terrorism-related."
Later on, he was described as "unstable" by a Cypriot Foreign Ministry official.
"This is not about terrorism. This is about the individual action of a person who is psychologically unstable," said the Cypriot Foreign Ministry's permanent secretary, Alexandros Zenon.
A statement issued by Egypt's Civil Aviation Ministry quoted Cypriot officials as saying that the hijacker wore a fake explosive vest, which did not contain any explosives.
The incident comes as Egypt's tourism industry, which is a major source of revenue for the country, has already been hit by the crash of a Russian passenger plane over the Sinai Peninsula in late October.
The incident was claimed by the Daesh terrorist group which had purportedly planted a bomb on board, killing all 224 people aboard.