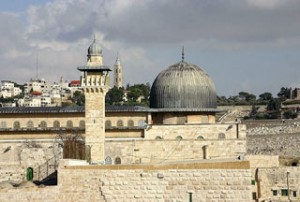 Israeli official figures reveal that the regime stripped a record number of Palestinians of their right to live in East Jerusalem Al-Quds last year.
Some 4,577 Palestinians had their residency rights removed in 2008, according to the Israeli Interior Ministry.
More than a third of the total number of Palestinians lost their residency since Israel occupied the city in 1967, based on the figures released on Wednesday.
Palestinians, living in East Jerusalem Al-Quds were offered Israeli citizenship after the regime occupied the holy city in 1967.
Israel claims Jerusalem is its "eternal, indivisible" capital, while the Palestinians want at least the implementation of UN resolutions which give the control of the east part of the city to them.
Some 180,000 Israeli settlers currently live alongside nearly 270,000 Palestinians in East Jerusalem Al-Quds.