Lebanon
March 14 and Al-Mustaqbal (the hands of Israel in Lebanon) are Enemy of Lebanon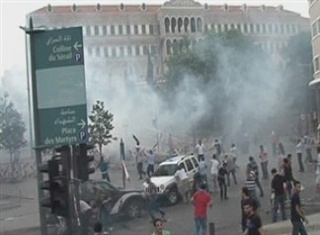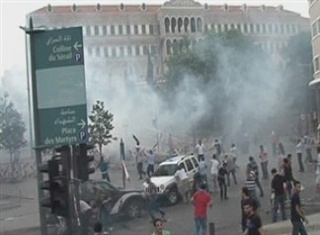 Shortly after ex-Prime Minister Fuad Siniora addressed March 14 crowds on Sunday, riots took place in Downtown Beirut as these crowds tried to storm the Grand Serail.
Sunday's events ring a bell in the Lebanese' minds of the peaceful sit-in staged few years earlier by the former opposition which was demanding the cabinet resignation.
At that time, the opposition protests were considered as a "disturbance" of the national peace and security. But they are today considered as a "spontaneous reaction" by the angry crowds who were taking part in the funeral of slain Internal Security Forces Information Branch Chief Wissam al-Hasan who was killed Friday in a blast in Achrafieh.
"You should not stay in your post as a Prime Minister," Siniora addressed PM Najib Miqati during Hasan's funeral on Sunday.
However, it seems that Siniora has forgotten that he himself was in that post when tens of thousands of Lebanese took part in the protests demanding his resignation in the year of 2006.
Here are some of Siniora's quotes during the sit-in which started in December, 2006 and ended in May, 2008.
"I won't sack my luggage and I'm staying here as long as I have the Parliament's confidence. Hence, I have repeatedly said that I won't bat an eye … I won't bat an eye…"
"Do you think that the cabinet would be toppled through protests?… Problems won't be solved through street."
"If your partner in the country disagrees with you.. then you should sit to the dialogue table and settle the unsolved issues. This should not mean that: either we agree or we would destroy the country."
"To my brothers in the country who are taking part in the protests, I call upon you practice insight."
"The sit-in in Downtown Beirut indicates that there is deliberate crisis and disturbance of the country's security."
On Sunday, and few years following the sit-in in Riyad Solh, Siniora demanded that the cabinet should be toppled through this same street. However, he has forgotten that the people, who demanded the government's resignation at that time, even did not think of storming the Grand Serail.