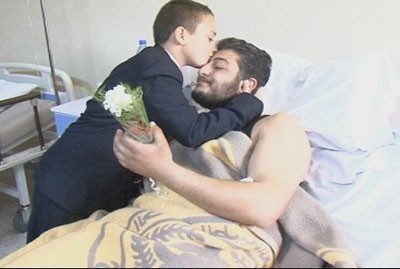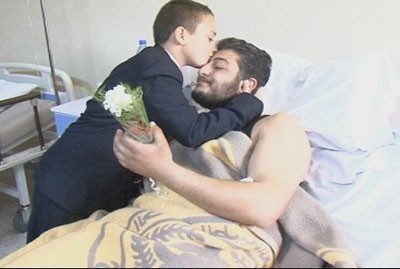 A number of students from Martyrs' Sons Schools on Tuesday donated blood during their visit of wounded Army and Armed Forces personnel in Martyr Yousef al-Azmeh Hospital in Damascus.
Director of the General Establishment of Martyrs' Sons Schools, Maj. Gen. Mohammed Amin Osman Mahmoud, said that the visit is based on the initiative of the students who insisted on donating blood for the wounded comrades-in-arms of their fathers.
For their part, the students said that no matter what anything that they can give to the personnel of the Syria Army pales in comparison to the great sacrifices they made to safeguard the dignity of the country, stressing their determination to continue along the path of their fathers whom they miss very much.
The sons of martyrs said they will continue such visits to wounded Army personnel as well as continuing to donate blood, which will be an ongoing campaign.
In turn, the wounded Armed Forces personnel expressed their thanks and appreciation for this gesture, stressing their determination to return to carrying out their national duty of eradicating terrorism and restoring security to the citizens after they recover from their injuries.