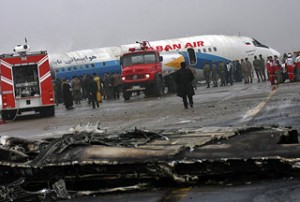 A Mashhad airport official says the emergency landing on Sunday occurred when a pilot concerned about an ill passenger tried to land the aircraft in bad weather conditions.
"The pilot asked to be given permission for an emergency landing, although he did not have a clear view of the runway, because he had a sick passenger onboard," the manager of Mashhad's Shahid Hashemi-Nejad International Airport told reporters on Sunday.
"He (the pilot) said that he would take full responsibility for the landing, but missed the runway because of the lack of visibility," Mohsen Esmaili explained.
The airport manager said that other than the Russian-made Tupolev, which caught fire after landing, no other aircraft had been given permission to land at the airport that day because of heavy fog.
Esmaili said that the Civil Aviation Organization of Iran has established an expert commission to investigate the incident.
He added that the results of the investigation would be made public as soon as possible and stated that further speculation on the cause of the accident before the investigation is completed would be "unprofessional."
The Taban Airlines passenger aircraft, which had departed from the southwestern Iranian city of Abadan, was trying to land at Mashhad airport at 7:20 a.m. local time (0350 GMT) Sunday morning when its tail caught fire.
The plane had tried to land in Mashhad earlier that morning, but foggy weather conditions had forced the pilot to turn back to land at Isfahan airport, 872 kilometers to the southwest of the city. After a short stop, the airliner had once again headed for its initial destination.
Earlier reports said that the plane, which was carrying 157 passengers, had caught fire while trying to land, but Esmaili said the fire had started in the tail section four minutes after the passengers were evacuated from the aircraft.
He also stated that the injured people had mostly sustained cuts and bruises while sliding down the emergency ramps.
According to the airport official, most of the 46 injured people were treated on the spot.
However, Esmaili said seven of the injured passengers were still receiving medical attention for broken limbs or smoke inhalation at Mashhad hospitals.