Palestine
Mass rallies in Gaza against occupation violations and return to negotiations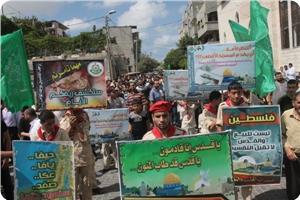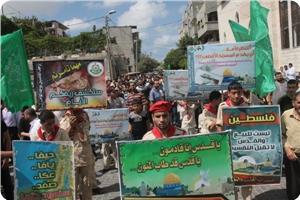 Hundreds of citizens participated in mass rallies on Friday in the north of Gaza condemning the Israeli continued crimes against the Aqsa Mosque, and the return to negotiations between the Palestinian Authority and the Israeli occupation.
The marches, called for by Hamas movement, were launched after Friday prayers in front of the Kholafaa El Rashedin mosque in Jabalya refugee camp in the northern Gaza Strip, and roamed a number of the streets of the camp.
The participants in the march that was headed by ministers, MPs and a number of Hamas leaders, raise banners condemning Israeli procedures in Al-Aqsa Mosque, and slogans rejecting the resumption of negotiations.
Hamas leader Mohammed Abu Askar said that the persistent violations and daily incursions in Jerusalem prove the occupation intention to divide the Aqsa Mosque as it did in the Ibrahimi Mosque before.
"Storming Al-Aqsa and the attempts to Judaize it represent a natural result of negotiations based on more concessions from the Palestinian side in light of the Arab countries' preoccupation in their internal affairs", Abu Askar said.
He added that his movement did not and will never intervene in the Egyptian affairs, and stressed that the tightening of the blockade on Gaza will not discourage it from resisting the occupation.