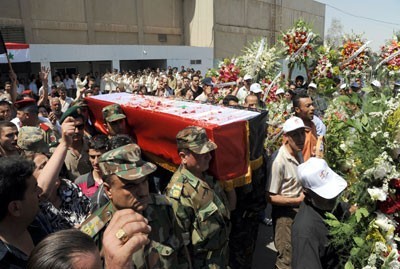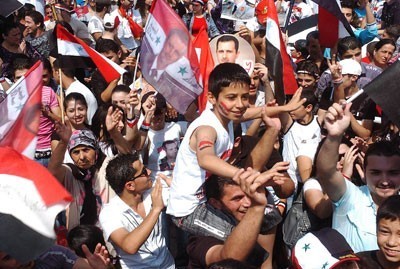 Civil and popular activities in the Syrian cities on Wednesday continued marches and rallies in support of the comprehensive reform process and in appreciation for the Syrian Army's role in preserving stability and security.
In Homs, women of the governorate held a mass rally in support to the reform measures taken by the Syrian government under the leadership of President Bashar al-Assad.
"We strongly condemn the conspiracy to which Syria is exposed, Syria will overcome this crisis through the national unity of its people," Hala al-Atasi, Chairwoman of Homs Women's Union said.
In the southern city of Sweida, a number of civil and popular activities visited several army sites in appreciation for the patriotic role of the Army in keeping security and stability in the country.
In Aleppo countryside, a mass rally was held in response to the calls of civil societies in the governorate to support the reform program, rejecting some misleading media campaigns which try to destabilize security in Syria and instigate sedition.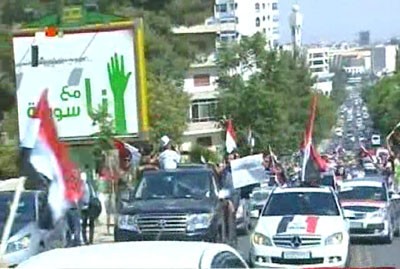 Thousands of Aleppo inhabitants also arrived in Damascus driving 3,000 cars to express support to the reform process, rejecting all forms of sedition.
The participants said "we want to stress the Syrian people's national unity and to express gratitude to the Syrian army who restored security and safety to the people intimidated by the armed terrorist groups."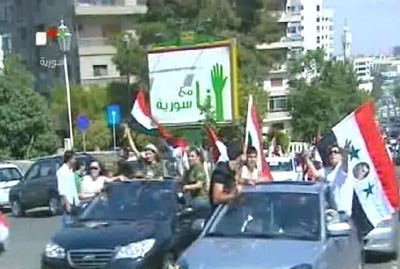 In a statement to SANA, the organizer of the rally, Mohammad al-Dairy said the cars toured the main squares in Aleppo, Homs and Hama to end up in Damascus.
"We want to convey the message that Aleppo people support the comprehensive reform program led by President Bashar al-Assad and that they reject all sabotage acts, the killing and burning public and private properties under the title of freedom," he added.
He called upon all the Syrian citizens to give the government more time for achieving the announced reforms. Meanwhile, scores of Syrian youths staged a mourning stand for the souls of the Syrian martyrs at al-Jalaa (independence) garden in Damascus.
"This gesture comes for the pure souls of our martyrs," the youths said in a statement. They carried the Syrian flags and lit candles, calling for considering this move as a minute to end sorrow and begin to work together.