Iran
Iraq
Middle East
Massoud Barzani: Iran the first country that supplied Kurds with arms to fight ISIL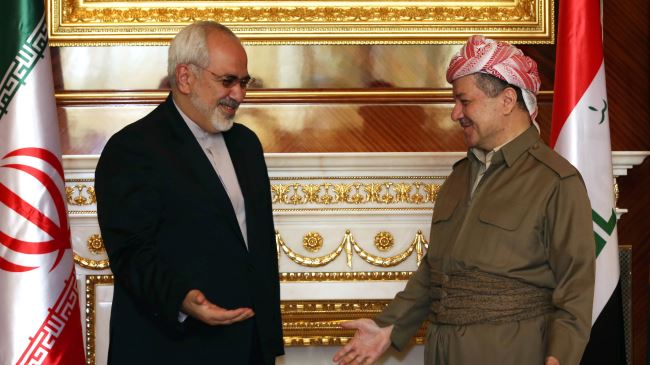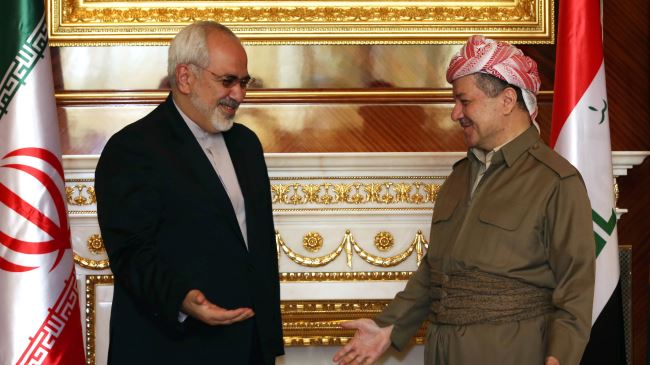 Iran's Foreign Minister Mohammad Javad Zarif has arrived in Iraq's semi-autonomous Kurdistan region for the second leg of his two-day visit to the Arab country.
On Tuesday, Zarif held talks with top officials of Kurdistan Regional Government (KRG), including President Masoud Barzani, in Erbil, to discuss threat from Takfiri ISIL militants to the region.
The Iranian minister further praised the Kurdish resistance against the ISIL terrorists' threat.
Zarif has traveled to Iraq to hold talks with high-ranking Iraqi officials.
The top Iranian diplomat has already held talks with Iraqi President Fuad Masum, Prime Minister-designate Haider al-Abadi, Foreign Minister Hoshyar Zebari, outgoing Prime Minister Nouri al-Maliki, Parliament Speaker Salim al-Jabouri, and head of National Iraqi Alliance, Ibrahim al-Jaafari.
The Iranian foreign minister has also met with senior Shia cleric, Grand Ayatollah Ali al-Sistani, in the Iraqi city of Najaf, as well as a number of other Iraqi Shia clerics, including Ayatollah Mohammad Saeed al-Hakim, Ayatollah Sheikh Mohammed Ishaq al-Fayyadh and Ayatollah Sheikh Basheer Hussain Najafi.
The visit came as Iraq has faced turmoil caused by the ISIL in the north and west since early June. The crisis deteriorated in recent weeks, as the militants swept over new towns in the north, forcing members of the minorities out of their homes.
The ISIL terrorists have threatened all communities, including Shias, Sunnis, Kurds, Christians, Izadi Kurds and others, as they continue their atrocities in Iraq.
Kurdish Peshmerga forces have recently managed to drive the ISIL terrorists out of the towns of Guwair and Makhmur in Iraq's northern province of Nineveh.