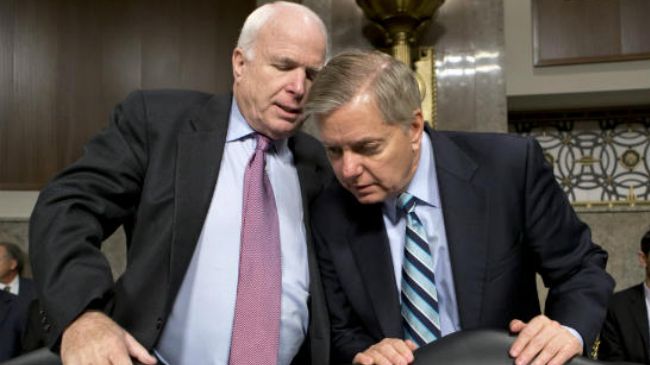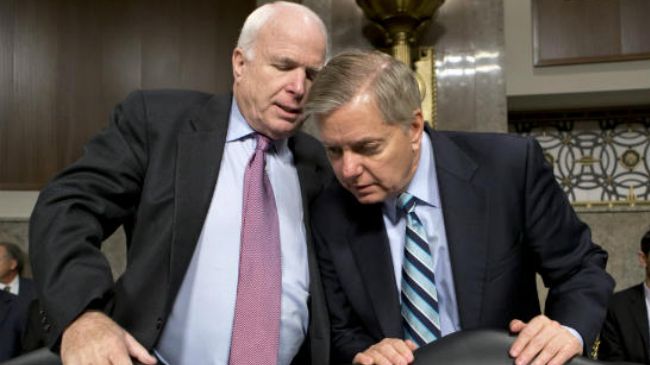 US Republican Senators John McCain and Lindsey Graham say they will not back "isolated military strikes" against Syria, calling for a regime change strategy in the Arab country.
"We cannot in good conscience support isolated military strikes in Syria that are not part of an overall strategy that can change the momentum on the battlefield, achieve the president's stated goal of [Syrian President Bashar al-]Assad's removal from power, and bring an end to this conflict, which is a growing threat to our national security interests," they said in a statement, as reported by Reuters.
Earlier on Saturday, President Barack Obama said in a Rose Garden address that the United States should launch military strikes against Syria.
The president said he would seek authorization for the attack from Congress when lawmakers return from recess on September 9.
"Over the last several days, we have heard from members of Congress who want their voices to be heard," he said.
Congressional leaders have agreed to hold a debate on Syria and vote when they return to Capitol Hill, he added.
The American intelligence community claims Damascus has used chemical weapons against foreign-backed militants. Washington is now using the incident as an excuse to launch strikes on targets in Syria. The Syrian government has categorically rejected the use of chemical weapons.
Earlier, McCain said it is shameful that the United States has not yet intervened in the Syrian crisis. He urged the White House to arm foreign-backed militants who have been fighting Syria's government forces for the past two and a half years.