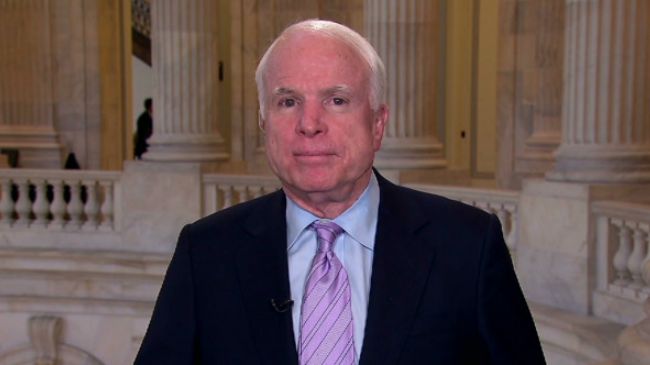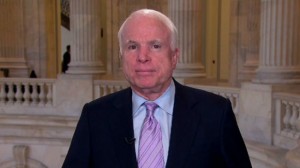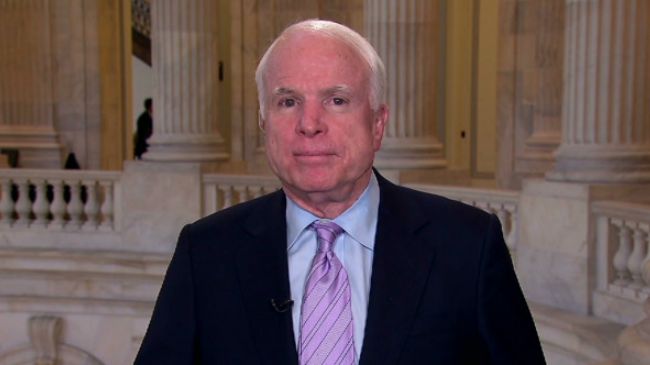 Republican Senator John McCain has strongly criticized the US administration for mishandling the situation in Ukraine, saying President Barack Obama is begging his Russian counterpart Vladimir Putin.
"We are begging him to come around and negotiate and talk and all that, and he just moves steadily on. And it is disgraceful and the rhetoric does not match the action," he said in an interview on Tuesday.
"This president does not believe in American exceptionalism, America's role of leading the world," McCain added.
The Arizona senator also attacked Vice President Joe Biden for his comments in Ukraine.
On Tuesday, Biden said that "we call on Russia to stop supporting men hiding behind masks in unmarked uniforms sowing unrest in eastern Ukraine." McCain responded to his remarks with a question: "Or else what?"
"Or else what?" he repeated. "If they continue to do this, what will we do?"
The 77-year-old senator also urged the White House to "tell the American people why it's important that Putin's aggression not continue."
"It's time we said the people of Ukraine deserve free and fair elections, they deserve our support," he said.
He also said that Obama "does not appreciate, in my view, the importance of American leadership."
The United States has repeatedly threatened Russia with sanctions over the situation in Ukraine.
The US military is sending about 600 ground troops to Eastern Europe this week.
Pentagon Press Secretary Rear Adm. John Kirby said the paratroopers will take weapons and ammunition for "infantry exercises" and be in place by the end of the week.