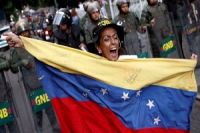 Foreign mediators have held separate meetings with Venezuelan government and opposition to revive stalled talks aimed at ending more than three months of street clashes in the country.
According to Press TV, the foreign ministers of Brazil, Colombia and Ecuador together with a representative from the Vatican held separate closed-door meetings with the two sides on Sunday.
The move comes as the Venezuelan opposition suspended negotiations with the government of President Nicolas Maduro on May 14 to protest against what it calls mass arrests of anti-government activists.
The opposition says it refuses to return to the negotiation table until the government has accepted their demands, including amnesty for opposition prisoners.
The government on the other hand has accused the opposition of making impossible requests that are akin to blackmail.