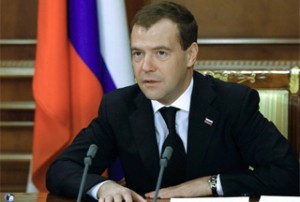 Russian President Dmitry Medvedev says Kyrgyzstan is on the verge of what he described as a possible civil war and threatens to become a "second Afghanistan."
"As I understand it, Kyrgyzstan is on the verge of civil war," Medvedev said in a speech delivered at a US think tank in Washington on Tuesday.
"Our task is to help the Kyrgyz people find a calm way out of this crisis," Medvedev said , suggesting that ousted Kyrgyz President Kurmanbek Bakiyev should formally step down to defuse the current crisis in the former Soviet Republic.
His comments came just hours after Bakiyev expressed readiness to step down if the interim government guarantees his security.
The interim leader, Roza Otunbayeva, has also accepted Bakiyev's call for talks and asked him to specify a time and place.
Sources say Bakiyev is ready to agree to a deal allowing him and his family to leave the Central Asian country.
Medvedev warned that the ongoing political unrest in the Central Asian state could tear the country apart.
"There is real risk that Kyrgyzstan may disintegrate into two parts, northern and southern," the Russian President said in reply to questions at the Brookings Institution.
The US and Russia both operate military bases in Kyrgyzstan. The US facility at Manas airport near Bishkek is used to supply troops to Afghanistan.