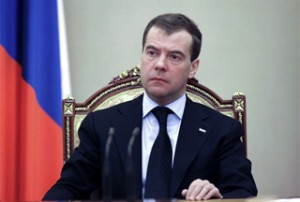 Russian President Dmitry Medvedev says his country remains wary of the United States' moves regarding its revised missile system plans.
The first US plans were introduced under former US President George W. Bush, under whose administration relations between the two sides deteriorated to a post-Cold War low.
In a veiled jibe at Bush, Medvedev said during an exclusive interview with ABC News on Monday that the new US President Barack Obama is a "thinker" unlike "other people."
Medvedev also reiterated that the US plans were linked to the newly-inked successor to the 1991 strategic arms reduction treaty (START I) and stressed that should Washington seek to create an "imbalance" the treaty could still be nullified.
The Russian leader said the link had been termed in precise language in new START treaty, underlining "interconnection between the strategic offensive arms and missile defense."
Medvedev expressed reluctance to resort to such a move, adding "I hope that nothing like that will happen."
Last Thursday, Medvedev and his US counterpart, Barack Obama, signed the new treaty in Prague after a series of rows over the missile system plans that hampered talks for a successor before the old document's expiry date of December 5.
The treaty now awaits ratification by the Russian parliament and the US Congress.
The two countries must reduce their stockpiles of nuclear weapons from a level of 2,200 warheads to 1,550 for each country.
The US and Russia's nuclear arsenals roughly amounts to about 90% of global arsenals of atomic arms. Some analysts have criticized the unbinding nature of the treaty.