Palestine
Meshaal to AFP: Hamas's Focus Now Popular Resistance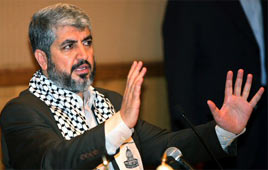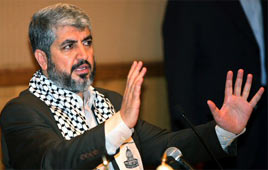 Hamas is looking to focus its energies on popular resistance without giving up its right to wage armed struggle against Israel, the resistance movement's leader Khaled Meshaal told AFP in an interview.
"Every people has the right to fight against occupation in every way, with weapons or otherwise. But at the moment, we want to cooperate with the popular resistance," the group's Damascus-based leader said in the interview late on Thursday.
"We believe in armed resistance but popular resistance is a program which is common to all the factions," he said.
Meshaal's comments were made just hours after he held top-level talks with Palestinian president Mahmud Abbas, who heads the rival Fatah movement, in a bid to cement a stalled reconciliation agreement between the two groups.
Speaking to reporters in Cairo, the two leaders approved a two-page document reiterating their commitment to the main elements of the original deal, which was signed in May, and hailed a new era of "partnership" between their two factions.
The document, a copy of which was seen by AFP, outlines an agreement on "the adoption of popular resistance" which is to be to be strengthened to oppose the seizure of land for israeli settlement building and construction of the West Bank barrier.
Meshaal did not go into detail about the focus on popular resistance but said the Hamas leadership would ensure the agreement was translated into action. "I asked them to take practical and positive measures to flesh out this agreement," he told AFP.
"I have instructed the Hamas leadership (in Gaza and Damascus) to adopt a political line and one with the press that doesn't upset the conciliatory spirit, and that truly reflects the atmosphere of reconciliation "
The Hamas chief also brushed off threats by the government of zionist israeli prime minister benjamin netanyahu, which has vowed to retaliate should Abbas's Palestinian Authority form a unity government with Hamas.