Latin America
Metro station on fire in Chilean capital as protests continue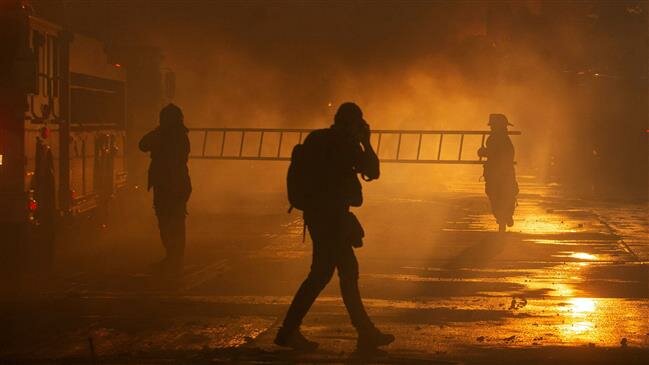 The Baquedano metro station and a building have been set on fire as Chilean protesters clash with security forces in Santiago shortly after Chilean President Sebastian Pinera unveiled a major cabinet reshuffle to find a response to 10 days of street protests.
The demonstrators on Monday set a huge fire on the access gate to the Baquedano Metro station, in which the police allegedly tortured some detainees, according to complaints received from the victims themselves.
Meanwhile, a march to the Palacio de La Moneda to express in front of the Government headquarters the social discontent of the protests in Chile also ended with a great fire of a shopping center in the heart of Santiago after hours of riots and barricades.
The shopping center was sacked first and then began to burn inside, and with the passing of the hours a large column of smoke was obscuring the sky of the capital of Chile while the fire spread to the adjoining buildings.
In that place, law enforcement repressed the protest, which covered almost a kilometer through the center of the Alameda Bernardo O'Higgins, the main artery of Santiago, so that they could not reach La Moneda.
The barricades burning in the middle of the avenue began to reproduce while the protesters threw stones at the Police and this responded with tear gas and water-throwing cars, popularly known as "guanacos".
In the middle of the confrontations, hooded men forced the metal mesh of the closure of the shopping center and entered to loot the enclosure, of about three floors, the same situation that had been experienced in previous hours in pharmacies and some shops in the area.
After the looting a fire was registered inside the establishment, mainly occupied by clothing stores, which caused an immense smoke at first and the spread of the fire moments later without Carabineros taking control of the situation.
The fire spread to two tall adjoining office buildings but Volunteer Firefighters arrived at the scene and managed to prevent the flames from spreading beyond.
The protests and the fires came shortly after President Pinera's decision to reshuffle one-third of his cabinet.
Pinera has asked all his cabinet ministers to step down so that he can form a new government as part of a reform plan aimed at quelling mass protests that have rocked the South American nation.
"I have put all my ministers on notice in order to restructure my cabinet," he said Saturday.
Reuters said it had obtained a document which suggested Pinera was considering replacing the heads of at least nine ministries, including the ministries of interior, defense, economy, transportation and environment.