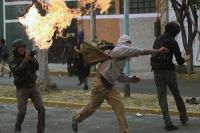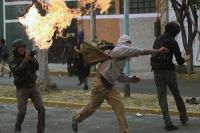 Mexican demonstrators have broken into the prosecutor's office in the state of Guerrero amid continuing protests over the fate of 43 students, who went missing in September and were reportedly murdered.
According to Press TV, an unnamed state security official said on Monday that some 300 people stormed the building in the regional capital Chilpancingo.
The official said almost all the staff left the building after the attack.
The protest was the latest in a string of demonstrations against the Mexican government's handling of the apparent massacre of the missing students.
On September 26, 43 students disappeared in the southern city of Iguala in Guerrero following an attack by police forces suspected of having links to drug gangs. The incident took place during a protest rally over teachers' rights.