North America
Miami doctor handcuffed for helping homeless amid COVID-19 crisis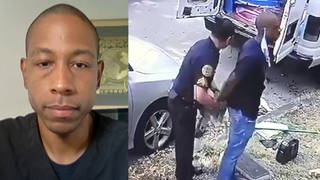 A frontline doctor at Miami's Jackson Memorial Hospital recalled the "humiliating" and "infuriating" experience of being handcuffed outside his home as he went to help homeless people amid the coroanvirus crisis.
Dr. Armen Henderson was only released after his wife showed documents proving they both lived in the house he was almost arrested in front of, he explained in Miami on Friday. The incident is to be investigated following a complaint, according to local reports.
The doctor denounced local authorities for alleged neglect of the homeless population, against the backdrop of the coronavirus pandemic.
"To add insult to injury, actually yesterday there was a body found in one of the places that we actually were testing individuals last week, or two weeks ago. A body found at Overtown, just in the back of a building basically." He indicated that tests were yet to be carried out to find the exact cause of death.
Medics could be seen carrying out coronavirus tests on homeless people.
According to Johns Hopkins University compiling data from the Centers for Disease Control and Prevention (CDC) and the World Health Organization (WHO), among others; the USA has the highest number of confirmed COVID-19 infections cases with over 700,000 and 37,000 related deaths.
(Source: Ruptly)