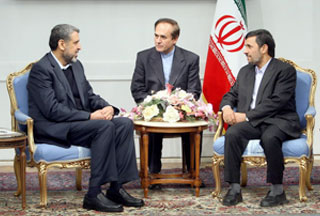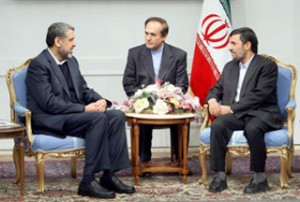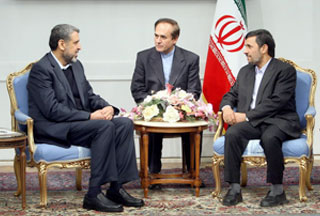 Iranian President Mahmoud Ahmadinejad says the Middle East is the region that "will determine the fate of the world."
"The Zionist regime and its allies are on the losing side, and the free nations' resistance is empowered," Ahmadinejad said in Tehran on Monday during a meeting with Popular Front for the Liberation of Palestine Secretary General Ramadan Abdullah Shallah.
The Iranian president also advised all nations and resistance movements to maintain unity.
Shallah said the world's oppressed people are following the example set by the Islamic Republic of Iran in confronting the arrogant powers.
"The Palestinians, too, as soldiers on the holy path, along with other forces in the region, stand beside Iran against the arrogant powers," he added.
The Palestinian official also held separate talks with Iranian Foreign Minister Manouchehr Mottaki.
During the meeting, Mottaki said that jihad and resistance are the keys to success for the Palestinians in their struggle against Israel.
He also stated that Tel Aviv will not be able to realize its goals in the Gaza Strip.
And Israel will never dare to attack Iran because the consequences of such an act "would be unpredictable," Mottaki added.
Shallah briefed Mottaki on the latest developments in Palestine and said that Israel is the main reason for instability in the region.