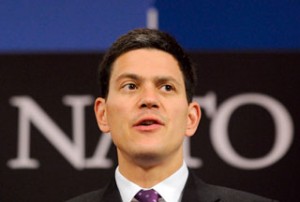 British Foreign Secretary David Miliband has rejected the chance to become the European Union's first foreign representative.
Miliband has been seen as a frontrunner for the new post of European foreign minister — one of two jobs created by the recently ratified Lisbon Treaty — even though he had said he was not 'available'.
But the BBC reported on Monday that Miliband ruled himself out of the race in a conversation with the head of the European socialists' group on Sunday.
Colleagues have also told the state-funded broadcaster that Miliband, foreign secretary since 2007, 'sees his future in British politics'.
They added that as there is still a small chance that Prime Minister Gordon Brown might choose to stand down before the tough elections next spring, Miliband would become a natural successor to head the ruling Labor party.
Brown meanwhile has said that he still backs former UK premier Tony Blair '100 percent' for the presidency job, as EU leaders prepare to decide on the new post.
However, Blair's chances of becoming the first EU president receded this week as France and Germany united against him.