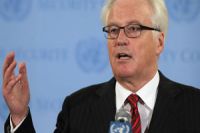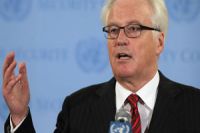 Russia has reiterated that foreign-backed militants in Syria were behind a chemical weapons attack in August in the Arab country.
According to AFP, following a UN Security Council meeting, Russian Ambassador to the UN Vitaly Churkin on Monday said "It is absolutely obvious that on August 21 a wide scale provocation was staged" by the militants "to provoke foreign military intervention."
On August 21, hundreds of people were reportedly killed and scores of others injured in the chemical attack in eastern Ghouta on the suburbs of the capital city of Damascus.
The militants operating inside Syria and the foreign-backed Syrian opposition accused the Syrian army of being behind the deadly attack.
However, Damascus has strongly denied the accusation, saying it was a false-flag operation carried out by Takfiri groups in a bid to draw in foreign military intervention.
Churkin added, "Our requests for additional information which could prove the Syrian government involvement in the use of chemical weapons were ignored by Washington."
On Friday, the UN mission probing allegations of chemical attacks in Syria said chemical weapons were probably used at least five times during the foreign-sponsored turmoil in the country.