Middle East
Syria
"Militants in Syria's Idlib to stage false flag drone strike; implicate Syria, Russia"
The Russian Defense Ministry has warned that foreign-sponsored Takfiri terrorists in Syria's Idlib are planning to carry out a drone strike in the de-escalation zone of the province, and incriminate Syrian army soldiers as well as Russian forces.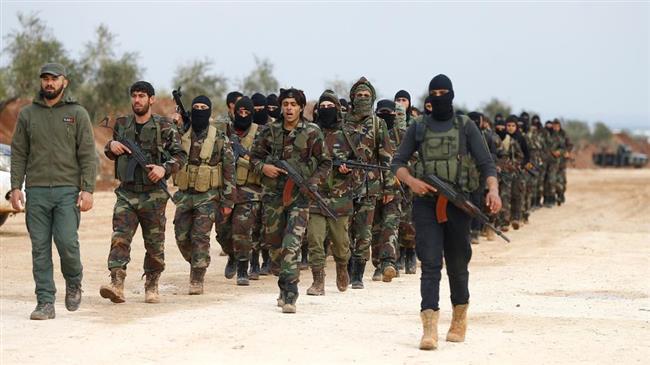 Deputy head of the ministry's Center for the Reconciliation of Opposing Sides in Syria, Rear Admiral Alexander Grinkevich, said on Monday that his center had obtained new information that terrorists were plotting to target residential neighborhoods in Nahleyah region of the northwestern province.
Grinkevich added that the Takfiris were intending to film the alleged drone strike, and subsequently publish the video on social media networks to create the false notion that Syrian army troops and Russian Aerospace Forces were responsible for the air raid.
Back on October 14, the Russian Defense Ministry stated that Takfiri terrorists and the so-called White Helmets group were working to carry out a false flag chemical attack in Idlib de-escalation zone.
Grinkevich said at the time that Takfiri terrorists were apparently planning to stage a new provocation using chlorine in Idlib.
He noted that members of the White Helmets, which calls itself a civil defense group, had arrived in the area and received several barrels of chlorine from the militants operating in Idlib.
Western governments and their allies have swiftly implicated Damascus in the wake of any apparent chemical attack in Syria.
Syria has always denied the deployment of chemical weapons, arguing that it handed over its chemical stockpile in its entirety to a joint mission led by the United States and the Organization for the Prohibition of Chemical Weapons (OPCW) back in 2014. The mission subsequently made sure that the weaponry were totally annihilated.
On April 14, 2018, the US, Britain and France carried out a string of airstrikes against Syria over a suspected chemical weapons attack on the city of Douma, located about 10 kilometers northeast of the capital Damascus.
Washington and its allies blamed Damascus for the Douma attack, an allegation roundly rejected by the Syrian government.
A former OPCW senior investigator and other informed sources have suggested that the organization's report on Douma that resulted in the airstrikes on Syria had been doctored and key evidence in the case ignored and distorted.