Syria
Militants shell mosques, hospital in Syria's Aleppo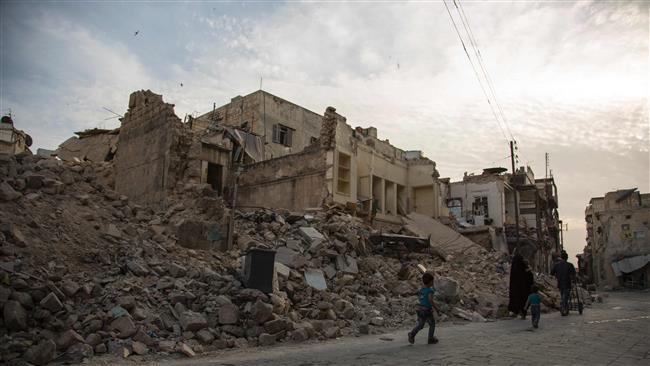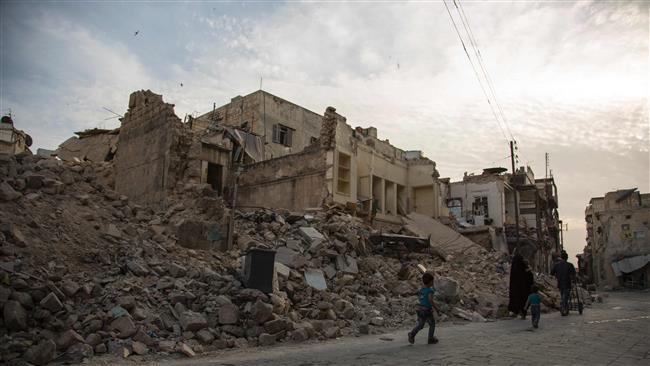 Foreign-backed militants shell two mosques, a hospital and several neighborhoods in the northern Syrian city of Aleppo, killing dozens of people and injuring many others. 
Syria's official SANA news agency said at least three women were killed and 17 others injured after militants fired several rockets at al-Dabit Hospital in the government-controlled Muhafaza district of the troubled city on Tuesday.
Separately, rocket fire by militants on other government-held neighborhoods killed another 11 people, it added.
There were no immediate reports of deaths or injuries after the shelling of mosques.
The so-called Syrian Observatory for Human Rights, a UK-based monitoring group affiliated to so-called Syrian opposition, said that at least 19 people lost their lives and 80 others were wounded in the shelling of government-held areas of Aleppo on Tuesday.
The Syrian army issued a statement, saying al-Qaeda-linked Nusra Front, Ahrar al-Sham, and Jaish al-Islam of carrying out the shelling aatcks.
The army also vowed to make "the appropriate response to the sources of fire."
Over the past few days, foreign-backed militants have conducted rocket attacks on several government-controlled neighborhoods in Aleppo, leaving heavy casualties and a ceasefire deal in tatters.
The truce, brokered by Russia and the United States, went into effect late February in a bid to facilitate negotiations between warring sides to the conflict.
Russian Foreign Minister Sergei Lavrov told reporters after talks with UN envoy Staffan de Mistura in Moscow that a cessation of hostilities could be announced in Aleppo "in the next few hours."
"I am hoping that in the near future, maybe even in the next few hours such a decision will be announced," Lavrov said
Several hospitals and clinics have previously been hit by deadly militant attacks in the embattled city.
This comes as heavy fighting between foreign-backed militants and Syrian government forces continue in Aleppo.
The chaos comes despite the existing nationwide ceasefire in Syria. The Takfiri Daesh militants and al-Nusra Front are excluded from the "cessation of the hostilities" agreement reached in late February as an attempt for facilitating peace talks.
Aleppo has been divided between the government forces and militants since 2012, a year after the conflict broke out in the Arab country. Dozens have been killed in renewed clashes over the past few days as warnings are high that a human tragedy may unfold in the city.
Since March 2011, the United States and its regional allies, in particular Saudi Arabia, Qatar and Turkey, have been conducting a proxy war against Syria.
According to a February report by the Syrian Center for Policy Research, the conflict has claimed the lives of over 470,000 people, injured 1.9 million others, and displaced nearly half of the pre-war population of about 23 million within or beyond Syria's borders.