Middle East
Saudi Arabia
Yemen
Military targets at airport in Saudi's Asir region hit by Yemeni drone strikes: Yemen's army
Yemeni armed forces say they have successfully hit a military target at an airport in Saudi Arabia's southwestern province of Asir with drone strikes.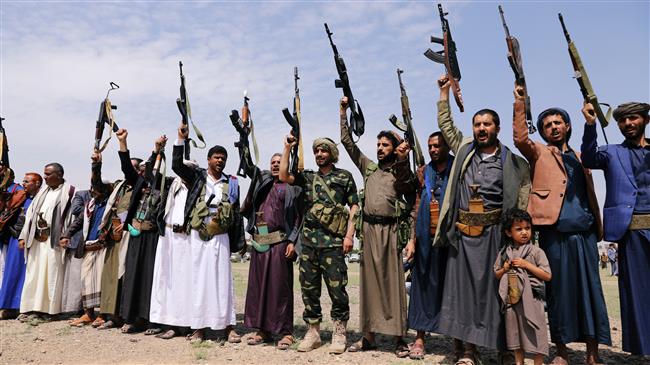 Spokesman for the Yemeni Armed Forces Brigadier General Yahya Sare'e said Thursday that domestically-developed Samad-3 (Invincible-3) attack drones were used to hit the Abha International Airport in Asir, the Arabic-language television network reported.
He stressed that the strikes hit the "important" military target at the airport "with precision", adding that the aerial attack came in retaliation for the air raids being constantly conducted by the Saudi-led military coalition against the impoverished country.
Sare'e also said Yemeni forces will keep up their retaliatory raids against sensitive and strategic targets on Saudi soil as long as Riyadh and its allies fail to end their military campaign and siege against Yemen.
On September 9, the same airport was came under attack by three Samad-3 drones, which targeted sensitive positions at Abha, a few hours after a similar attack was conducted by a number of Qasef-2K (Striker-2K) combat drones against the airport.
The Yemeni forces at the time said the designated targets had precisely been hit in both attacks, which came just a day after a number of Samad-3 drones successfully hit some military targets at the same airport.
Last Thursday, Yemeni armed forces also used a domestically-developed Zofaqar ballistic missile and four Samad-3 drones to hit a "strategic target" in the Saudi capital, Riyadh.
Earlier on Thursday, Saudi-led warplanes pounded different localities in Yemen's Ma'rib, Sa'ada and Hajjah.
Following the Thursday attack, the Saudi-led coalition claimed in a statement, carried by the state-run Saudi Press Agency, that Yemenis had launched drones at purportedly civilian targets in the kingdom's southern region of Khamis Mushait near the border.
It also claimed that the drones were intercepted and one of them was destroyed.
The Saudi regime usually claims to have intercepted the drones and missiles fired from Yemen.
Since early 2015, Riyadh and a coalition of its vassal states have been engaged in a military campaign against Yemen in a futile attempt to reinstall a Saudi-friendly government there.
The Western-backed war, which has been accompanied by a crippling blockade of Yemen, has killed tens of thousands of people and afflicted the already-poorest Arabian Peninsula nation with the "world's worst humanitarian crisis," according to the UN.
The Yemeni forces have, in recent days, stepped up their defense campaign against Riyadh, which has tightened its siege of Yemen by blocking the entry of fuel and humanitarian supplies into the war-torn country.