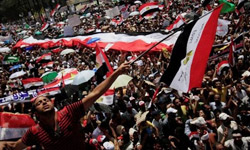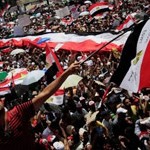 Millions of Egyptian people are due to stage nationwide rallies on Monday to voice strong support for the Palestinians and condemn the Zionist regime for its aggressions and crimes against the Palestinian people.
Mohsen Razi, a senior member of the "Freedom and Justice" party affiliated to the Egyptian Al-Ikhwan al-Muslimun (Muslim Brotherhood) party made the announcement on Saturday.
"November 21 will be the day of holding protest rallies dubbed 'Helping the Noble Quds'," Razi told FNA, adding that the rallies will start from al-Nour mosque in Abbasiya neighborhood in Cairo and will end in front of the Arab League headquarters in the Egyptian capital.
Elaborating on the goals of the organizers of the rallies, he said that Egyptians want to show Muslim vigilance and awakening and their feeling of responsibility for the Palestinian issue.
The rallies will be held against a backdrop of intensified israel rhetoric against the Palestinian people in the Gaza Strip and after the US made abundant attempts to prevent implementation of the Palestinian statehood plan by preventing a consensus among the UN Security Council members.