Middle East
Millions of Muslims commemorate Eid al-Adha amid coronavirus restrictions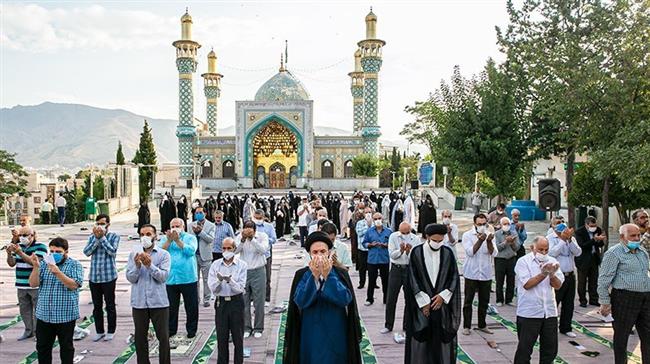 Millions of people in Iran and across the Muslim world are celebrating the auspicious religious occasion of Eid al-Adha (Feast of Sacrifice), which marks the climax of the annual Hajj pilgrimage, while observing health protocols and social distancing rules amid the coronavirus pandemic.
The occasion, which falls on the 10th day of the lunar calendar month of Dhu al-Hijjah every year, was marked by saying prayers, sacrificing livestock and serving the meat to the needy.
In Iran, people attended the Eid al-Adha prayers and remembered the memory of 464 Iranian pilgrims, who lost their lives during a hajj stampede in Mina, Saudi Arabia, in September 2015, which Tehran blamed on the Saudi organizers' incompetence.
In Iraq's northern semi-autonomous Kurdistan region, Eid prayers were conducted with massive throngs of worshipers in attendance in the city of Sulaymaniyah despite a tight curfew.
The Iraqi government is imposing an 11-day full curfew during the Eid al-Adha holiday.
The Higher Committee for Health and National Safety, headed by Prime Minister Mustafa al-Kadhimi, said the earlier this week that the curfew would run from July 30 to August 9 to curb the spread of the coronavirus.
In Syria, thousands of people filled mosques across the war-torn country.
Eid Al-Adha prayers were performed at homes in the capital Damascus and its countryside after the Ministry of Endowment did not allow gatherings in light of the increasing coronavirus cases.
Palestine's official Wafa news agency reported that more than 27,000 worshipers performed Eid al-Adha prayers at the al-Aqsa Mosque compound in the Old City of Jerusalem al-Quds on Friday.
Ceremonies were held throughout the besieged Gaza Strip as well, with people attending prayers at mosques and sacrificing livestock.
Eid al-Adha honors Prophet Abraham's willingness to sacrifice his son, Ismael, as an act of obedience to God's command.
But, before Ibrahim could carry out the divine order, God provided a lamb to sacrifice instead.