Iran
Technology
Minister Stresses High Offensive Capability of Iran's Newly Unveiled Aircraft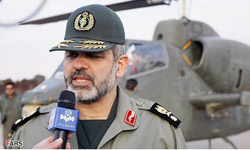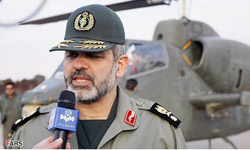 Iran's newly unveiled fighter jet possesses high combat capability and is a rival for the world's most advanced military aircraft, Iranian Defense Minister Brigadier General Ahmad Vahidi said on Saturday.
Addressing a ceremony to unveil Iran's new home-made fighter jet, named Qaher 313, Vahidi said all production stages, including designing and manufacturing of the new aircraft were carried out by Iranian experts at the Aviation Industries Organization of the Defense Ministry.
As regards the specification of Qaher 313, the minister said, "The advanced aircraft with an advanced appearance has a very small Radar Cross Section (RCS) and is capable of operating and flying in low-altitude."
The minister added that high-tech materials and electro-ionic systems were used in the aircraft which is capable of landing and taking off from short runways.
Vahidi noted that Qaher 313 enjoys high combat capability and can carry home-made weapons.
Vahidi also told reporters on the sidelines of the ceremony that Qaher 313 is able to rival with the most advanced fighter jets in shape and structure, adding that its shape has gifted the aircraft small RCS.
Radar cross section (RCS) is a measure of how detectable an object is with a Radar. A larger RCS indicates that an object is more easily detected. An object reflects a limited amount of radar energy.
The advanced Iranian aircraft was unveiled today in a special ceremony attended by President Mahmoud Ahmadinejad.
The new achievement was unveiled on the occasion of the Ten-Day Dawn ceremonies, celebrating the victory of the Islamic Revolution back in 1979.
Iran has also taken wide strides in designing and manufacturing different types of light, semi-heavy and heavy weapons, military tools and equipment. Tehran launched an arms development program during the 1980-88 Iraqi imposed war on Iran to compensate for a US weapons embargo. Since 1992, Iran has produced its own tanks, armored personnel carriers, missiles and fighter planes.
Yet, Iranian officials have always stressed that the country's military and arms programs serve defensive purposes and should not be perceived as a threat to any other country.