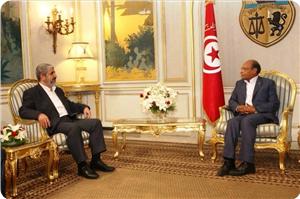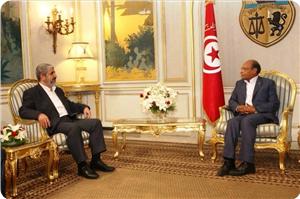 Tunisian president Mohammed Moncef el-Marzouki received a senior Hamas delegation led by Khaled Mishaal, head of the group's political bureau, in the Carthage presidential palace on Friday.
Mishaal said, during a press conference, the meeting went over ways to boost the Gaza reconstruction process and provide assistance to the hundreds of homeless families.
Mishaal further appealed to el-Marzouki to take advantage of his legal expertise and take Gaza's case to international courts so as to impeach Israeli war criminals.
"We have no other option than to keep going in the reconciliation path and restructure our internal affairs," he declared when asked about the reconciliation process.
Mishaal briefed el-Marzouki on the tragic situation in the blockaded Gaza Strip, which requires an immediate launch of the reconstruction project.
The Hamas leader urged the national unity government to take up its responsibilities in Gaza and the West Bank, alike, without further procrastination or delay.
Mishaal spoke against the smear and ad hominem campaigns targeting Hamas movement in the wake of the Israeli offensive, calling for the need to stop backbiting and opt for direct communication.
"Before the launch of the offensive we started to re-arrange our internal affairs. Once the fight started off we fought hand in hand both in the battleground and in politics to have all of our demands met," he stated.
Along the same line, Mishaal denounced Israeli premier Benjamin Netanyahu's attempts to whitewash the crimes he perpetrated in Gaza by tossing accusations promulgated in Western pro-Israel media outlets, like comparing Hamas to Da'ash and dubbing the movement a terrorist group.
"But this is a plain game that will not manage to pull the world's legs," he maintained.
According to Mishaal, Gaza and the Palestinian resistance have given the world prototypical lessons via the knack and creativity they have been exhibiting throughout their fight for freedom.
The Palestinian leader further confirmed that direct talks with the Israeli side are neither laid on the movement's agenda nor put up for discussion. Hamas's adopted policy rather opts for indirect talks with the colonizer.
Mishaal hailed Tunisia's unyielding support for the Palestinian people and its "honorable" pro-Palestine positions.