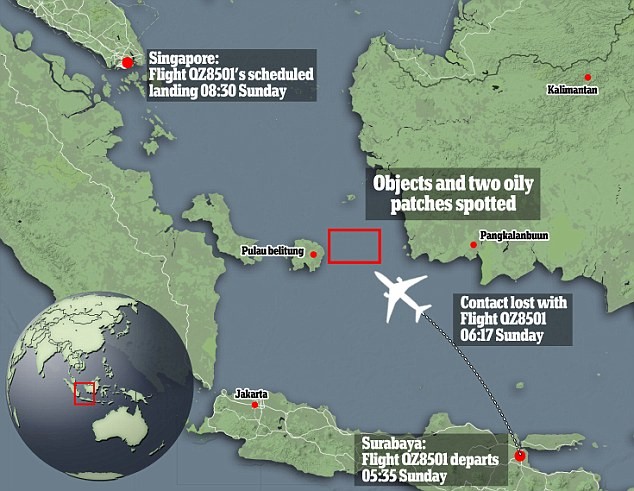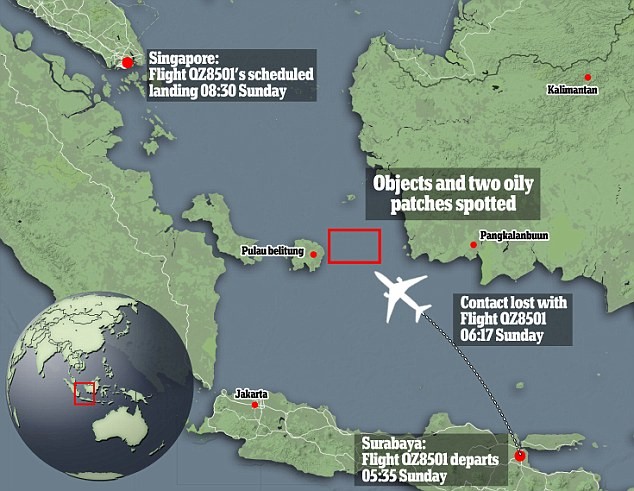 An Indonesian official says objects have been spotted in the sea by a search plane hunting for the missing AirAsia jet. Jakarta's Air Force base commander Rear Marshal Dwi Putranto said he was informed on Monday an Australian Orion aircraft had detected suspicious objects near Nangka island, about 160 kilometres south-west of Pangkalan Bun, near central Kalimantan.
It is 1,120 kilometres from the location where the plane lost contact.
'However, we cannot be sure whether it is part of the missing AirAsia plane,' Rear Marshall Putranto said.
'We are now moving in that direction, which is in cloudy conditions.'
An Indonesian helicopter saw two oily spots in the search area Monday afternoon, and an Australian search plane spotted objects hundreds of miles away.
The flight went missing at 6.17am local time on Sunday while travelling from Indonesia to Singapore with 162 people on board, speculation on what may have happened points to weather, speed and an older radar system.
AirAsia confirmed there were 155 passengers on board – including 138 adults, 16 children and one infant – and also stated there were two pilots, four flight attendants and one engineer on board.
Nationalities of passengers and crew onboard are one Singaporean, one Malaysian, one British, one French, three South Koreans and 155 Indonesians.
Earlier Monday, Indonesia search and rescue chief Henry Bambang Soelistyo said it seemed certain that the plane had crashed.
'Based on the coordinates that we know, the evaluation would be that any estimated crash position is in the sea, and that the hypothesis is the plane is at the bottom of the sea,' he said.
The last communication from the cockpit to air traffic control was a request by one of the pilots to increase altitude from 32,000 feet to 38,000 feet because of the rough weather.
Air traffic control was not able to immediately grant the request because another plane was in airspace at 34,000 feet, said Bambang Tjahjono, director of the state-owned company in charge of air-traffic control.
By the time clearance could be given, Flight 8501 had disappeared, Tjahjono said.
The twin-engine, single-aisle plane, which never sent a distress signal, was last seen on radar four minutes after the last communication from the cockpit