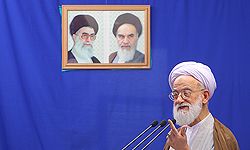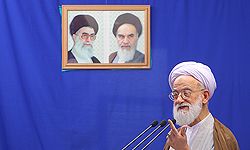 Tehran's provisional Friday Prayers Leader Ayatollah Mohammad Emami Kashani blasted the killing of innocent Palestinian children and women by Israel during the 8-day war on the besieged Gaza Stripe, and stressed that the war once again unveiled the wild nature of the Zionist regime.
"The killing of innocent children and women laid bare the offensive nature of the Tel Aviv regime," Ayatollah Kashani said, addressing a large congregation of worshippers on Tehran University Campus here in Tehran on Friday.
He, however, said that the eight-day war on the Gaza Strip only brought disgrace on Tel Aviv and its allies, and stated, "With the help of the US, the Zionists slaughtered the Muslim people in Gaza. In this crime, it was revealed that whoever follows the Zionist regime's (Israel) line, he is in the line of cruelty, savagery and war with humanity."
He blasted certain Arab and Muslim countries for their inaction on the Zionists' crimes against the Palestinian people.
Over 165 Palestinians, including women and children, were killed and about 1,269 others were injured in the Israeli attacks on Gaza that were carried out during the eight-day period of November 14-21.
In similar remarks on Wednesday, Supreme Leader of the Islamic Revolution Ayatollah Seyed Ali Khamenei strongly condemned Israel's crimes in the Gaza Strip, and said the "brutality" shown by the Zionists against Gaza has unveiled the true nature of the Israeli regime and its supporters.
"The incredible barbarism shown by the leaders of the occupying regime in attacking Gaza demonstrated that these fully wild elements have not (even) smelt humanity," Ayatollah Khamenei said, addressing a large gathering of Basij (volunteer) forces here Tehran on Wednesday.
Ayatollah Khamenei also lashed out at the US, Britain and France for their blatant support for the Zionist crimes.
"They showed how far are the violent and infamous enemies of the Islamic Ummah (community) from morality and humanity."