Latin America
Morales seeks punishment for Bolivia's coup orchestrators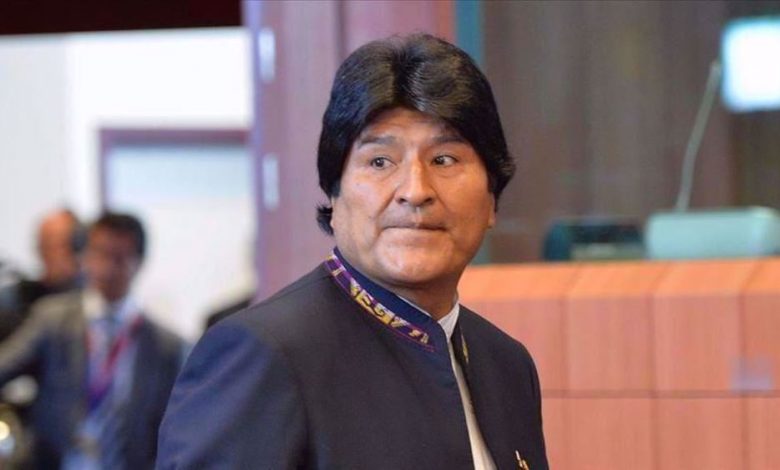 Bolivia's former president Evo Morales has called for the masterminds and accomplices of a coup d'état that saw him flee his home country almost two years ago, to be duly punished.
Morales made the remarks after a court in Bolivia issued arrest warrants for his successor Jeanine Anez and several other individuals over their role in the November 2019 coup against Morales.
Citing the coup d'etat, Morales tweeted that the "authors and accomplices of the dictatorship" that succeeded him must be "investigated and sanctioned."
Anez has rejected the accusations and denounced the ensuing arrest warrants.
She claimed to be the victim of "aberrant political persecution" and said she should benefit from immunity as a former president.
"It is an absolute outrage, they are accusing us of being accomplices of an alleged coup," Anez told local television as she arrived in a military plane at a La Paz airport under heavy police escort.
"There is not a grain of truth in the accusations. It is simple political intimidation. There was no coup. I took part in a constitutional succession," Anez noted.
In letters to the Organization of American States and the European Union, she appealed for observer missions to evaluate her arrest and those of her former energy and justice ministers.
Anez took power in late 2019 after Morales stepped down in November 2019, and was forced to go into exile to Mexico and then to Argentina.
Anez withdrew her candidacy from presidential election in October last year, one day after polls revealed that Luis Arce, the pro-Morales candidate, was in the lead.
Morales returned home from forced exile after Arce's presidency, and his party, the Movement for Socialism once again became the ruling party. He still plays a leading role in the party he founded in 1995.
UK supported Bolivia coup for 'white gold'
A report published by Declassified UK – an investigative website – revealed earlier this week that Britain had indeed supported the coup in Bolivia to secure access to the country's lithium, known as the new white gold, due to rise in global demand.
According to the journalistic investigation, the UK Embassy in Bolivia co-funded a project during 2019-20, which sought to "optimize Bolivia's lithium exploration and production (in the Coipasa and Pastos Grandes salt flats) using British technology" just after Anez's took power.
It also revealed extensive ties between the British Foreign Office and the Anez government.
The report found that the Foreign Office helped fund Satellite Applications Catapult, an Oxford-based company, to the tune of £33,220 in its pursuit of further exploring lithium production in Bolivia.
Four months after Anez took power, British ambassador Jeff Glekin brought 12 British companies to Bolivia for the first time, saying, "Many are looking for new markets in the world and Bolivia can be an opportunity to grow."
"Due to the political changes in Bolivia, a more open environment for foreign investment is perceived, and I believe that this will open new doors to companies that want to share their technology, their products and make alliances with different companies," he said.
Morales had warned previously that the coup would open Bolivia's lithium reserves to international exploitation.
"In Bolivia, we could define the price of lithium for the world… Now I have realized that some industrialized countries do not want competition," Morales said after the coup.
He had been seeking to nationalize the extraction of lithium reserves in order to "secure the country's future."
Estimated to be at around 900 million tonnes, Bolivia's reserves are believed to contain 70 percent of the world's known lithium, representing a lucrative market for international investors and competitors.
The mineral is essential in the manufacturing of long-lasting batteries and electric cars.