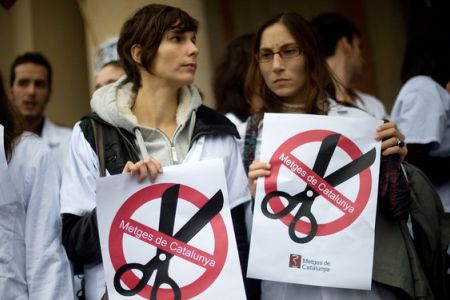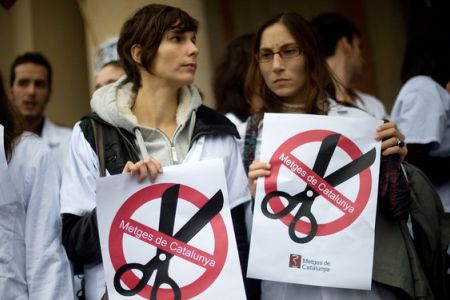 Public workers have taken to the streets of Greece and Spain to protest the spending slashes by their governments as the European Union's debt crisis drags on.
More than 16,000 physicians and hospital workers walked out their jobs in Spain's northeast Catalonia region.
Also in Barcelona, doctors and patients gathered at the main entrance of the La Vall d'Hebron Hospital during the first day of the health workers' strike on Tuesday.
The walkouts were part of a two-day strike to protest against budget cuts implemented by Spanish politicians and the head of the government of Catalonia, Artur Mas.
Protesters voiced their opposition against a series of budget cuts for the current year, as well as cuts in the future.
Meanwhile, secondary school teachers in Madrid plan a strike on Thursday — the 8th walkout this school year — in protest at the government's austerity measures.
Span's economy was battered by the global financial downturn in 2008 and has been witnessing a wave of protests against cuts, high unemployment, and corruption.
Many Spaniards blame the government for their hardships, stressing that authorities have failed to properly address the country's economic situation, amid fears that the country might have to seek an EU bailout similar to Greece.
Meanwhile, hundreds of public sector workers in Greece once again went on strike to protest harsh austerity measures, including more planned salary and pension cuts and job losses.
The protest comes as Greek lawmakers are debating the plans proposed by new Prime Minister Lucas Papademos for the 2012 budget — plans that are likely to win a parliamentary vote despite widespread popular protests.
Papademos was named as interim prime minister on November 10, after days of unrest following outgoing Premier George Papandreou's suggestion to put the EU bailout to a national referendum. The idea was later dropped.
The new government must now ratify a bailout deal in three months to avoid a default and to remain in the bloc.
Greece has been plagued by a massive debt crisis that may spread to the entire eurozone, with Portugal, Italy, Ireland and Spain seen as the next victims of the EU insolvency crisis.