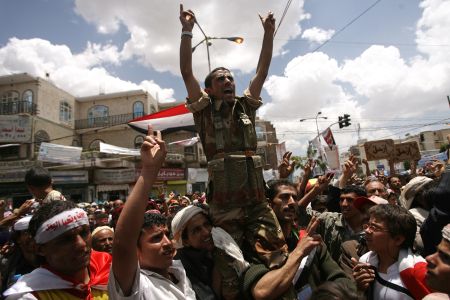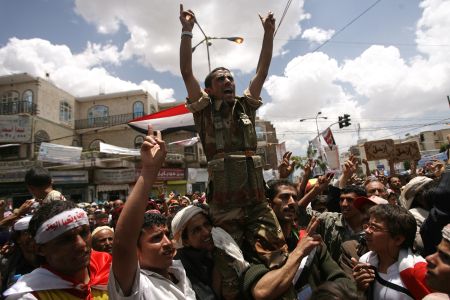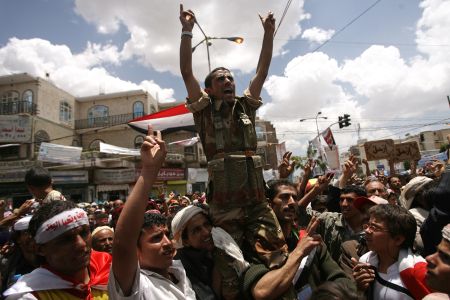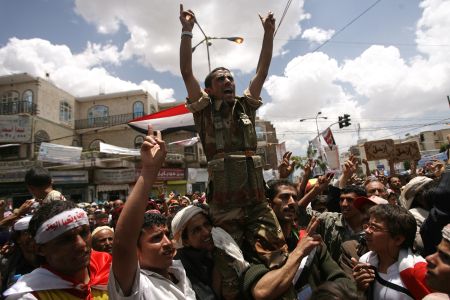 Another group of Yemeni army officers and soldiers have defected to join protests against President Ali Abdullah Saleh's decades-long rule.
Members of the Republican Guard, Central Security and Air Forces quit on Wednesday and sided with anti-regime protesters who have been demanding the immediate ouster of Saleh and transfer of power to his deputy, Xinhua reported.
Hundreds of cheering Yemenis welcomed the officers who joined crowds of people in the center of the capital Sana'a, where protesters were staging a demonstration.
A number of senior army commanders have already joined the anti-government demonstrators.
The defecting officers and soldiers had earlier declared their decision to the Commander General Ali Mohsen al-Ahmar at the headquarters of the 1st army Armored Division in Sana'a.
They have vowed to support and protect the "peaceful revolution of the youths," an officer of the unit said on condition of anonymity.
Meanwhile, clashes between government forces and troops that have sided with anti-government protests have left at least five people dead in the Yemeni capital.
The defections come as anti-regime protests are gaining momentum in crisis-hit Yemen.
Saleh has declined to surrender power despite widespread protests since mid-February against some 30 years of his rule.