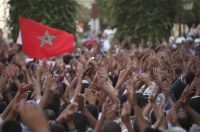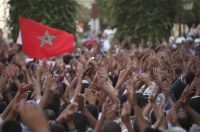 Thousands of people have taken to the streets in the Moroccan capital, Rabat, to protest against the country's high unemployment rate and cost of living.
According to Press TV, on Sunday, protesters marched through Rabat to demonstrate against the high jobless rate and growing expenses amid government plans to move ahead with social and economic reforms.
Police officials say some 3,000 people gathered in peaceful protest, marching towards the parliament building in central Rabat.
In the march organized by two trade unions, protesters chanted slogans against the government's policies, demanding their "rights and freedoms."
Activists from the February 20 movement also took part in the march. Witnesses say the protesters accused Prime Minister Abdelilah Benkirane of pushing Morocco into a "ravine."
Last December, people took to the streets to protest at high water and electricity prices. Many were injured in subsequent clashes.
Anti-government protests broke out in Morocco on February 20, 2011. Morocco's King Mohammed VI announced some reforms following the rallies, amending the Constitution to curtail his powers and hold early elections. However, the protesters say the reforms do not go far enough.