Africa
North America
Moron Trump says Egypt will 'blow up' Ethiopia dam
US President Donald Trump has said that Egypt will destroy a new Ethiopia's dam built on the Nile River.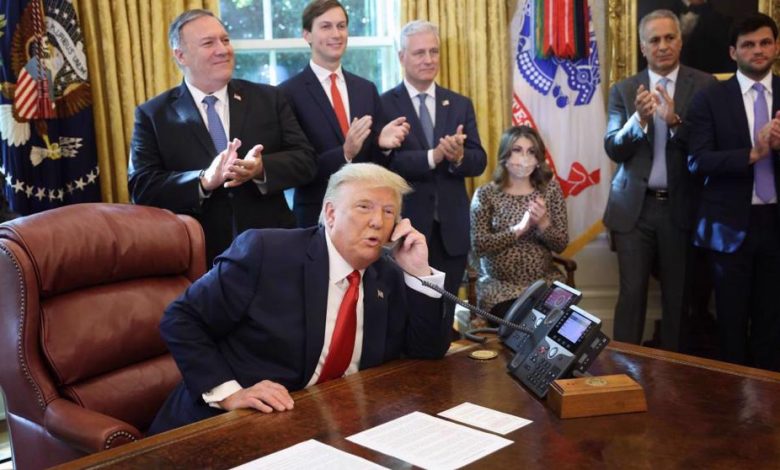 He made the remarks Friday while announcing a normalization deal between the Israeli regime and Sudan's cash-strapped and military-led transitional government.
"It's a very dangerous situation because Egypt is not going to be able to live that way," Trump told reporters in the Oval Office with leaders of Sudan and Israel on speakerphone.
"They'll end up blowing up the dam. And I said it and I say it loud and clear — they'll blow up that dam. And they have to do something."
Trump, who is a close ally of Egypt's general turned president, Abdel Fattah al-Sisi, had agreed to Cairo's appeal to mediate over the dam, with his Treasury Secretary Steven Mnuchin leading the talks.
The president Friday expressed regret that Egypt was engaged in dealing with a domestic crisis when Addis Ababa started Grand Ethiopian Renaissance Dam (GERD) project in 2011.
"They should have stopped it long before it started," the president said.
Last month, the US State Department said it was cutting off aid to Ethiopia due to its decision to start filling the GERD without reaching an agreement with the downstream nations.
"I had a deal done for them and then, unfortunately, Ethiopia broke the deal, which they should not have done. That was a big mistake," Trump said. "They will never see that money unless they adhere to that agreement."
Meanwhile, Sudan's Prime Minister Abdulla Hamdok, when asked by Trump on speakerphone about the dam, voiced appreciation for US diplomacy, saying his government wanted an "amicable solution soon" among the three countries.
Egypt, Ethiopia and Sudan have been in talks for nearly a decade to reach an agreement on outstanding issues related to the potential impact of the $4.6 billion GERD on their water security.
Ethiopia insists the project is indispensable for its electrification and development needs and has voiced optimism about kick-starting the GERD operations in early 2021.
Egypt depends on the Nile for about 97 percent of its irrigation and drinking water and fears that the filling of the dam will trigger a water shortage crisis in the event of a prolonged drought.
Sudan, Ethiopia's northern neighbor, also worries about the potential consequences of GERD's construction on its own dams, as well as the safety of its population and farmland from flooding that could result from faults in the construction or operation of the dam.
The Egyptian government claims that if it takes five years to fill the Ethiopian dam, it will reduce Egypt's water supply by 36 percent and destroy half of the country's farmland.
The US-arranged normalization deal between Tel Aviv and Khartoum came following American media reports last month that Washington had offered the Sudanese army-led government a large sum of cash aid in exchange for establishing ties with the Israeli regime.
Shortly after the joint statement, Israeli Prime Minister Benjamin Netanyahu called the new agreements with Sudan the start of "a new era" in the region.
He thanked Trump for setting the stage for the deal, saying Israeli and Sudanese delegations would meet soon to discuss commercial and agricultural cooperation.
The agreement, however, is likely to spark outrage among the public in Sudan, where pro-Palestine sentiment runs deep. Several street protests had been held in recent weeks amid speculation of Khartoum's imminent normalization with Israel.
Earlier on Friday, Sudan's National Umma Party (NUP) rejected any normalization with Tel Aviv, warning that if such a thing happens, the bloc will withdraw its support from the transitional government, which took power last year after longtime leader Omar al-Bashir was overthrown by the army.
The NUP's leader, Sadiq al-Mahdi, insisted that the transitional government — which is to remain in office until elections in 2022 — has no mandate to make decisions on such controversial issues.
"We hope that all the institutions of the transitional government abide by this position. We will withdraw our support for the institutions of the transition if they establish relations with the apartheid and occupation state."
Ethiopia rejects Trump's dam 'blow up' vow
Ethiopia insisted on Saturday that it will not "cave in to aggressions of any kind" following Trump's threatening remarks against the country's Nile River mega-dam.
Prime Minister Abiy Ahmed's office defended the GERD project — set to become Africa's largest hydropower plant — emphasizing that Ethiopia was working to resolve longstanding issues over the project with downstream neighbors Sudan and Egypt.
"Nonetheless, occasional statements of belligerent threats to have Ethiopia succumb to unfair terms still abound. These threats and affronts to Ethiopian sovereignty are misguided, unproductive, and clear violations of international law," said an official statement issued by his office.
"Ethiopia will not cave-in to aggressions of any kind," it added.
A separate version of the statement issued in Amharic featured stronger language, saying, "There are two facts that the world has certified. The first is that there has been no one who has lived in peace after provoking Ethiopia. The second is if Ethiopians stand united for one purpose, it's inevitable, they will triumph."
Abiy's office did not explicitly mention Trump's name, though the statement came the morning after the US president commented on the dam dispute in support of Cairo.