North America
Most Americans don't like any of presidential candidates: Survey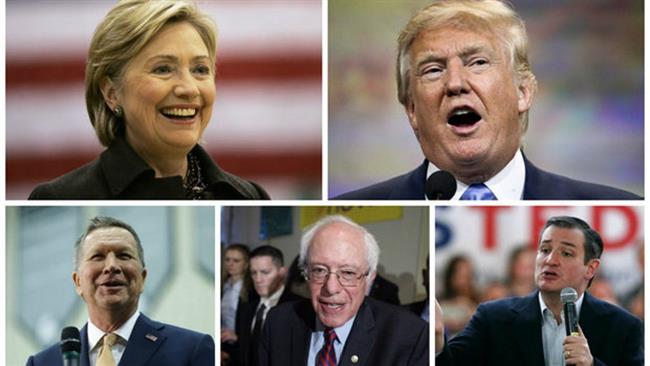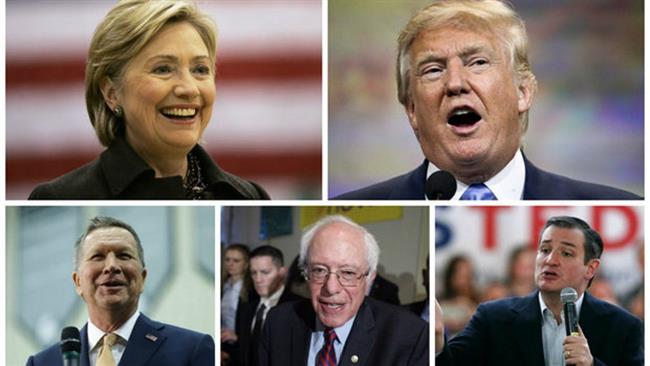 A majority of Americans believe none of the remaining US presidential candidates represents their opinions, according to a new Associated Press-GfK poll.
At least half of Americans say they would be disappointed or even angry if either of the party front-runners — Donald Trump for the Republicans or Hillary Clinton for the Democrats — are nominated for president, the survey shows.
And a quarter said they would be disappointed or angry if both win nominations, the AP-Gfk poll found. Another 25 would feel at best neutral if both are nominated.
Among all registered voters, 63 percent say they won't vote for Trump and 50 percent say the same about Clinton.
Nearly 20 percent of those surveyed say they'd either probably or definitely vote for a third-party candidate if Trump and Clinton are the nominees.
"Hillary Clinton is a liar. Donald Trump is an idiot. And Bernie (Sanders)? He's an old fool," said Bruce Bertsch, a libertarian and retired human resources director from San Diego, California.
"The Democrats want to spend my money. The Republicans want to tell me how to live my life — and then spend my money," Bertsch, 78, said in a telephone interview with the AP.
"I don't trust politicians," said Roland Bauer, 64, a retiree from Winter Springs, Florida. "Everybody is on the take," said Bauer, who plans not to vote if Clinton and Trump are nominated.
Even within their own parties, neither Trump nor Clinton generates much enthusiasm.
Only 26 percent of Democratic voters say they'd be excited about Clinton being their nominee, and 27 percent say they'd be satisfied. Another 23 percent would feel neutral, 19 percent would be disappointed and 5 percent would be angry, the poll found.
Trump performs even worse among Republican voters, with just 19 percent saying they'd be enthusiastic, 19 percent satisfied, 20 percent neutral, 25 percent disappointed and 16 percent angry.
Less than half of Americans say any of the remaining candidates, including Texas Senator Ted Cruz or Ohio Governor John Kasich, comes close to representing their opinions on the issues.
Among all the remaining candidates, only Sanders generates considerably more positive than negative views from Americans, with 48 percent saying they have a favorable opinion of him and 39 percent unfavorable.
Sanders is also the only candidate described by a majority of Americans as at least somewhat likable, civil, honest and compassionate.
Nearly 7 in 10 Americans have an unfavorable view of Trump, nearly 6-in-10 have an unfavorable view of Cruz and a majority — 55 percent — have an unfavorable view of Clinton, according to the poll.