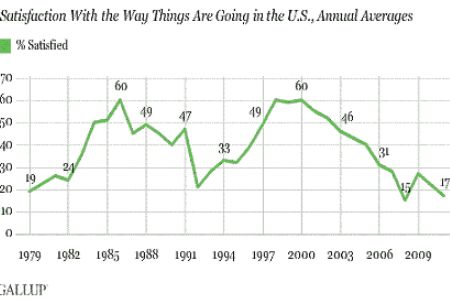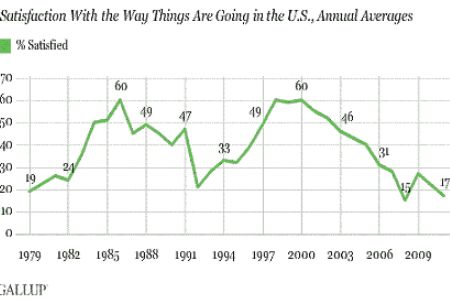 Only an average of 17 percent of Americans said they were satisfied with the way their country was run throughout 2011, the second-lowest ever, a new poll in the US indicates.
The 2011 average published by Gallup on Thursday is the second-lowest annual average in the more than 30-year history of the question, after the 15 percent from 2008.
Americans' widespread dissatisfaction with national conditions is largely stems from the country's economic woes.
Nearly two-thirds of Americans, 64 percent, currently mention some economic issue as the most important problem facing the country.
Dissatisfaction with government and elected officials, the federal budget deficit, and moral and ethical decline are at the top five mentioned problems facing the US.
During 2011, satisfaction ranged from lows of 11% in August and September to a high of 26 percent in May, recorded after the United States military found and killed Osama bin Laden.
Gallup has also found Americans' level of trust in their government at historic lows in 2011.