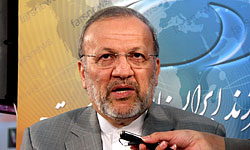 Iranian Foreign Minister Manouchehr Mottaki strongly criticized remarks by his French counterpart Bernard Kouchner on Iran's internal affairs, warning that his statements harm the interests of the French people.
"We are getting used to the French foreign minister's lack of insight regarding the developments of the Islamic Republic of Iran, and we believe that these ignorant statements would affect the interest of the French nation," Mottaki told reporters on Friday.
"Instead of making condemnatory statements against others, I would advise Mr. Kouchner to pay a little visit to the suburbs of Paris to catch on to the ongoing human rights violations taking place there," he continued.
Elsewhere, Mottaki referred to nuclear talks between Iran and representatives of Russia, France, the US and the International Atomic Energy Agency (IAEA) and said, "French officials were present at Vienna talks held by efforts of IAEA chief Mohammad ElBaradei, they should have been realistic toward others and offer correct measures toward Iran readiness to cooperate."
"They should apply fair position over technical and economical issues in nuclear talks," the Iranian foreign minister added.
French Foreign Minister Bernard Kouchner criticized Iran over a Western-backed nuclear deal, demanded Tehran's immediate response.
According to deal Iran to ship as much as 70 percent of the county's low-enriched uranium (LEU) abroad for processing into fuel for the Tehran research reactor.
Mottaki further underlined that Iran has three options on nuclear fuel supply- directly buying fuel from a third country, exchanging its low-enriched uranium (LEU) for the fuel it needs, or enriching uranium to the required level.
"They have to choose from these options. Given the need of Iran to have the fuel, my view is that they (the IAEA and the major powers) will accept another round of discussions," he went on saying.
Iran is preparing to give the International Atomic Energy Agency more details of its response to proposals from the major powers for the supply of nuclear fuel, Mottaki concluded.