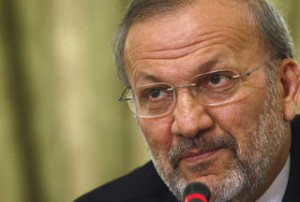 Foreign Minister Manouchehr Mottaki on Monday met with an Iranian diplomat who was recently freed in Pakistan by Iranian intelligence forces.
During the meeting at the Foreign Ministry, Mottaki praised Heshmatollah Attarzadeh's courage during his captivity.
Attarzadeh, Iran's commercial attaché in Peshawar, was abducted on November 13, 2008 on his way to the consulate. He was rescued last week by Iranian intelligence forces outside the Islamic Republic.
In an interview with Press TV, Attarzadeh said Mossad and the CIA, under orders from the United States, were behind his abduction.
On Monday, Mottaki also met the families of Iranian correspondent Hamid Masouminejad and Ali Damirchilou, an Iranian living in Italy, who are being held by Italian authorities on allegations of arms trafficking.
Italy is yet to present the two's lawyers with evidence to back the allegations.