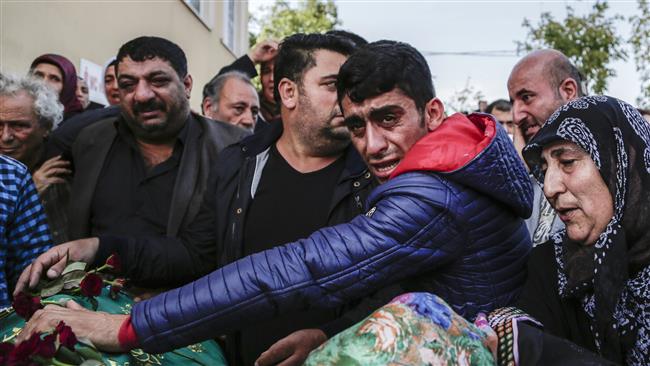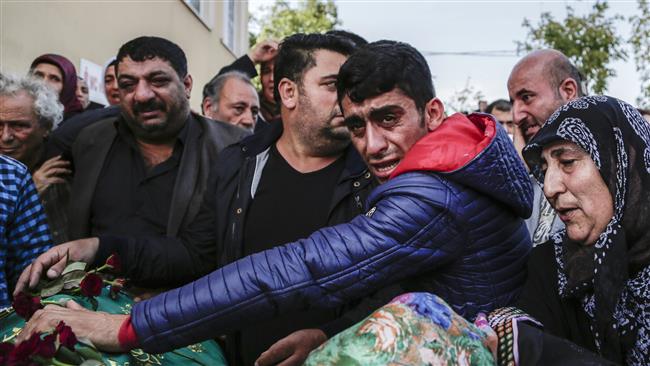 Funeral processions for those killed in recent deadly bombings in Turkey have turned into protests with people in several cities blaming the government for a surge in violence and bloodshed across the country.
Thousands in the Turkish towns of Tunceli and Suruc on Monday attended the funerals of several victims of Saturday twin bomb blasts in the capital, Ankara, which left some 100 people dead during the peace rally by pro-Kurdish and leftist activists.
The mourners chanted slogans, blaming the state for failing to prevent the attack, saying elements in the government, including President Recep Tayyib Erdogan, have stirred up nationalist, anti-Kurdish sentiment.
Hundreds also marched on a mosque at a suburb of Istanbul where a funeral was held for several of the victims. The protesters chanted slogans against Erdogan, calling him "thief" and "murderer."
The leader of the pro-Kurdish parliamentary opposition Peoples' Democratic Party (HDP), Selahattin Demirtas, also attended the funeral. The HDP says 128 people were killed in Ankara bombings, although the government challenges the figure, saying 97 died.
Lawyers also staged a protest at an Istanbul courthouse chanting "Murderer Erdogan will give account."
A similar demonstration was also held in Ankara where people condemned the bombings and vented their anger at the government.
Meanwhile, Prime Minister Ahmet Davutoglu of the Justice and Development Party (AKP) rejected accusations that the government was to blame for Ankara's attack. He said the bombings were meant to influence the outcome of snap parliamentary polls slated for early November.
"If you consider the way the attack happened and the general trend of it, we have identified Islamic State (Daesh) as the primary focus," Davutoglu told Turkey's NTV television, adding, "It was definitely a suicide bombing … DNA tests are being conducted. It was determined how the suicide bombers got there. We're close to a name, which points to one group."
The AKP announced snap elections after it failed to reach a consensus on forming a coalition government with major opposition parties in June. Turkey has also been engaged in airstrikes against the positions of the Kurdistan Workers' Party (PKK) in north Iraq for the past months, dismantling a once-active political dialog with the group and prompting revenge attacks on civilians and security forces across the country.
No group has claimed responsibility for Ankara's bombing; however, the government said the Takfiri group Daesh, which is operating on swathes of land in the two neighboring countries of Iraq and Syria, was the prime suspect in the incident. A report in the Haberturk newspaper on Monday provided police accounts, saying that the type of explosive and the choice of target bore the hallmarks of attacks by an affiliate of Daesh Takfiris.