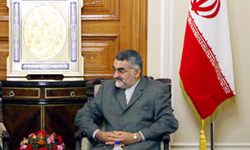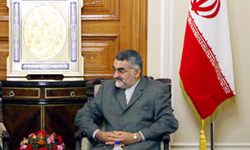 A prominent member of the Iranian parliament said that the US decision to exempt 11 states from tough sanctions against purchasing Iranian crude is part of Washington's efforts to block soaring oil prices.
On Tuesday, the United States exempted 11 nations including 10 European Union (EU) members and Japan from tough new sanctions on Iran as they have reduced oil purchase from Tehran.
"They are probably hopeful that the decision will have an impact on soaring oil prices in the world and that it will enable them to put a cover on the EU's unsuccessful and failed policy of imposing sanctions on Iran's oil sector," Chairman of the parliament's National Security and Foreign Policy Commission Alaeddin Boroujerdi said.
"Regarding the Islamic Republic's firm stance, the move is an overt retreat from the United States' previous stance," he added.
US Secretary of State Hillary Clinton said in a statement on March 20 that Washington has exempted 11 nations, 10 EU members and Japan, from the tough new sanctions on Iran as they have reduced oil purchases from Tehran.
She added that the exemption covers financial institutions from 11 nations- – Belgium, Britain, the Czech Republic, France, Germany, Greece, Italy, Japan, the Netherlands, Poland and Spain.
The Iranian lawmaker reiterated that the Islamic Republic will never retreat from its stance on the nuclear energy program which has been used as the main pretext for anti-Iran sanctions.
India, China and Russia have also criticized ban on Iranian oil.
After months of debates, the EU member states eventually reached an agreement in their meeting on January 23 to sanction oil imports from Iran and freeze the assets of Iran's Central Bank within the EU.
Meantime, demand is growing for Iranian crude oil in Asian and African markets after the EU's fresh decision.
Iran is currently supplying 100% of Sri Lanka's oil needs, 51% of Turkey, 25% of South Africa, 14% of Greece, 13% of Italy and Spain, 11% of India and China and 10% of Japan and South Korea's oil demands.