Syria
Muallem vows to 'liberate every inch' of Syria from terrorists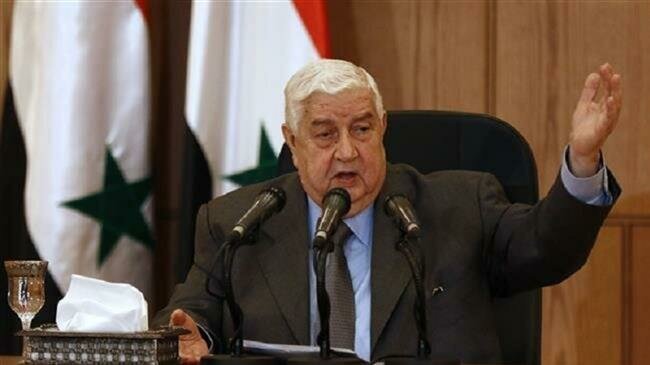 Foreign Minister Walid al-Muallem says Syria is resolved to rid the entire Arab country of foreign-sponsored Takfiri militants.
In a recent interview with Lebanon-based al-Mayadeen television news network, the top Syrian diplomat said "every inch" of the Syrian territory will be liberated from terrorists very soon.
Al-Muallem said terrorists positioned in the country's northwestern province of Idlib had lost "numerous opportunities for the settlement of crisis" after they failed to honor a ceasefire and continued to target civilian neighborhoods.
His remarks came as Syria's army launched ground operations inside Idlib and adjacent areas which are under the control of foreign-backed terrorists.
Syria has stepped up its bombardment of militant hideouts in the northwest. Idlib, along the border with Turkey, is the last remaining bastion of foreign-backed terrorists.
The so-called National Front for the Liberation of Syria is the main Turkish-backed militant alliance in the Idlib region.
Hayat Tahrir al-Sham (HTS), a coalition of different terror outfits largely composed of al-Nusra Front, holds a large part of the province.
Muallem said that "despite the Syrian army's agreement to truce in Idlib and efforts exerted in this regard, Ankara has failed to fulfill its obligations."
The Syrian foreign minister also demanded an immediate withdrawal of American and Turkish forces from Syria's northeast.
US troops have long been providing Kurdish YPG militants with arms and training, calling them a key partner in the purported fight against Daesh. Many observers, however, see the support in the context of Washington's plans to carve out a foothold in the Arab country.