Afghanistan
Asia-Pacific
Multiple casualties as bomb attack hits near Afghan capital
A bomb attack has left three people dead and 15 others injured near the Afghan capital, Kabul.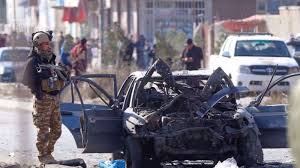 "A suicide bomber detonated his explosives among civilians in Reshkhor area of Char Asiab district of Kabul on Wednesday morning," Afghan Interior Ministry spokesman Tariq Arian said.
Char Asiab is approximately 11 kilometers south of Kabul.
No group has so far claimed responsibility for the blast.
The attack, which took place during the Islamic holy month of Ramadan, comes as violence has surged across Afghanistan despite a so-called peace deal signed between the United States and the Taliban militant group in late February.
Under the deal, the Taliban agreed to halt their attacks in return for Washington's phased withdrawal of its forces from Afghanistan and a prisoner exchange with the Afghan government, which was not a party to the talks or the deal.
The agreement was supposed to lay the groundwork for a peace process in the war-ravaged Asian country.
The Taliban militant group has already rejected a government offer of a ceasefire for the duration of Ramadan to help focus on efforts to contain the spread of the new coronavirus.
According to a report by the United Nations Assistance Mission in Afghanistan (UNAMA), more than 500 civilians lost their lives in Afghanistan in the first three months of the year.
About 14,000 US troops and approximately 17,000 troops from NATO allies and partner countries remain stationed in Afghanistan years after the invasion of the country that toppled a Taliban regime in 2001.