Egypt
Muslim Brotherhood Spokesman Underlines Support for Mursi's Performance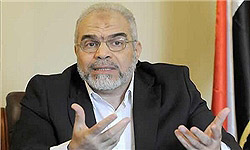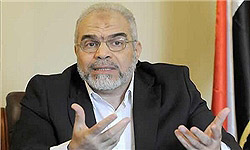 Muslim Brotherhood Spokesman Mahmoud Ghazlan voiced strong support for the performance of Egyptian President Mohammad Mursi during the last 100 days since he ascended to power, and praised him for his "courageous decisions".
Speaking in an exclusive interview with FNA on Monday, the Ikhwan Al-Muslimun (Muslim Brotherhood) spokesman said his party has a broad-based plan for administering the country's affairs, but Mohammad Mursi has not yet had the opportunity to carry out the plan as he has been in office just for 100 days.
Ghazlan praised Mursi's performance in his first 100 days in office, and said in his opinion President Mursi has so far acted very well and his performance has been in accordance to what he had promised in June.
"Muslim Brotherhood's plan has not been executed yet, particularly because those who prepared the plan are still outside the government. We hope that after adopting the constitution and holding parliamentary elections, these people will be assigned to their positions and with the help of God the plan enters its executive phase," Ghazlan said, describing the plan as good.
Asked about President Mursi's foreign visits, he said that "Mursi's foreign trips have been quite influential and Egypt's international and regional role was revived by these visits and this can be understood from President Mursi's speeches at different gatherings."
Pointing to the ousters by Mursi of several Egyptian army generals, including army chief, Field Marshal Tantawi in August, and his recent ouster of Prosecutor General Abdel Meguid Mahmoud, Ghazlan said, "These decisions have been fully courageous and helped the Egyptian government to correct its path of movement and move towards the revolution's objectives for which many people have been martyred in different Egyptian squares."
In addition to Field Marshall Tantawi, Mursi also retired Egypt's army Chief of Staff and commanders of the navy and air force in August.
Yet, the issue with sacking the prosecutor general has rather turned into a growingly complicated problem of Egypt today.
President Mursi ordered Mahmoud to step down on Thursday in an apparent bid to appease public anger over the acquittal of former regime officials on Wednesday who were accused of orchestrating violence against protesters in 2011.
Yet, Mahmoud defied the presidential decree, underlining that he would stay in office.