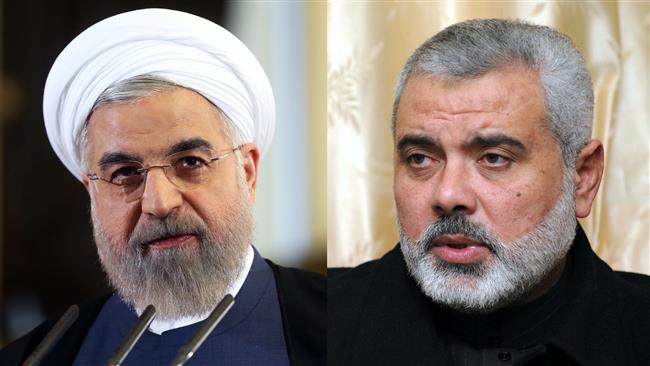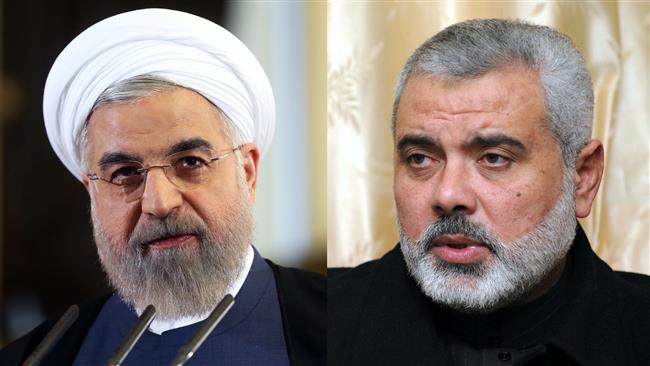 Iranian President Hassan Rouhani says unity and resistance of the oppressed Palestinian people and other Muslim nations will definitely lead to the failure of the US-Zionist plan to recognize Jerusalem al-Quds as Israel's "capital."
In a phone call with Ismail Haniyeh, the leader of Palestinian resistance movement Hamas, on Monday, Rouhani said the "insulting" move by the US President Donald Trump to recognize Jerusalem al-Quds as Israel's "capital" was a vicious plan against Palestine and the Muslim world, urging all Muslims to stand against it in unison.
"The Islamic Republic of Iran strongly condemns this US move. This incorrect move further revealed the nature of the US and Zionist regime [of Israel] to the world and showed that they do not want to officially recognize the Palestinian people's rights at all," the Iranian president said.
Rouhani called on all Palestinian movements to give a firm response to the Israeli regime and the US.
The US president on Wednesday defied global warnings and said Washington formally recognized Jerusalem al-Quds as the "capital" of Israel and would begin the process of moving its embassy to the occupied city, breaking with decades of American policy.
The announcement prompted harsh international warnings that it would bring more chaos to the Middle East region. Several protests have been held in many countries over the past days against the US and Israel.
Trump's decision blatant violation of Muslims' rights: Haniyeh
The Hamas chief, for his part, said Trump's decision was a blatant violation of rights of all Muslims.
He added that the Palestinian people would never allow Israel and the US to implement the plan, because al-Quds belonged to Palestine and the Muslim world.
Haniyeh pointed to the beginning of new Intifda (Palestinian uprising) and said the Palestinians were resolute to strongly continue it and cause the US-Zionist plan to crash.
Hamas Spokesman Sami Abu Zuhri tweeted on December 6 that Israel had "no land" and naturally no right to designate "a capital" city.
Zuhri added that such recognition "would harm Israel" and ultimately bring it "regret."
Clashes broke out between Israeli forces and Palestinian protesters on Monday, who took to the streets for the fifth consecutive day to censure the US president's decision.
Israeli forces fired tear gas and rubber bullets in several areas across the occupied West Bank, including Ramallah and Nablus, to disperse the Palestinian demonstrators, who threw rocks at them in return.