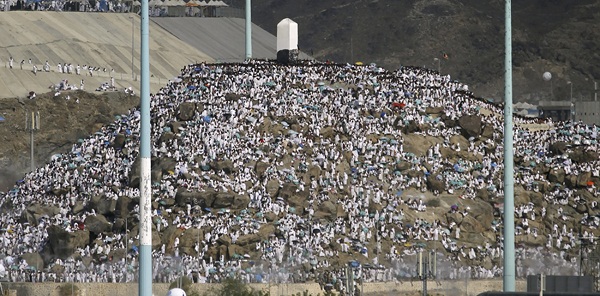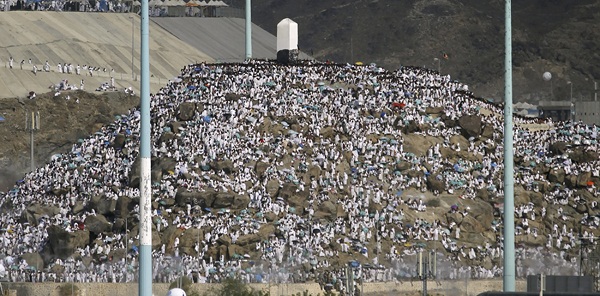 Hundreds of thousands of Muslim Pilgrims thronged the holy Mount of Arafat in Saudi Arabia from early Monday for the climax of the annual hajj pilgrimage.
OThe holy Mount of Arafatfficials said they expected around 1.5 million pilgrims to descend on the site, where later in the day they will perform prayers.
Helicopters hovered overhead and thousands of troops stood guard to organize roads flooded by men, women and children streaming towards Mount Arafat.
Governor of Mecca province and head of the central hajj committee Prince Khaled al-Faisal said 1.38 million pilgrims had arrived from outside of the kingdom while only 117,000 hajj permits were issued for domestic pilgrims.
This puts the number of pilgrims this year at almost 1.5 million, less than half of last year's 3.2 million after Riyadh slashed hajj quotas for foreign and domestic pilgrims because of massive construction works at the Grand Mosque in Mecca and fears linked to the MERS virus.
Arafat Day, on the 9th of Dhul Hijja, is the climax of the hajj season as all pilgrims gather on the hill known as Mount Arafat and its surrounding plain. Pilgrims stay at Arafat, where the Prophet Mohammed is believed to have delivered his final hajj sermon, until the evening. They spend the day reciting from the Koran and praying.
After sunset on the 9th of Dhul Hijja, pilgrims leave for Muzdalifah, half-way between Arafat and Mina, where they stay at least until midnight. They gather pebbles to perform the symbolic stoning of the devil.