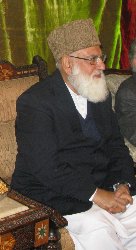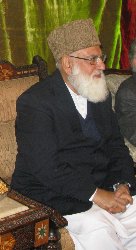 Former Amir Jamat-e-Islami (JI) here Wednesday asked Islamic countries to remain vigilant against anti-Islam conspiracies of West.
Talking to IRNA Qazi Hussain Ahmad said that the US and certain other Western countries cannot tolerate Islamic awakening in the Muslim states and are thus trying to derail the revolutions in the Muslims states.
The religious leader also backed the statement of the Iranian Foreign Minister Ali Akbar Salehi who had said that the US and certain other Western countries are making efforts to derail the popular revolutions in the Middle East and the North Africa.
"We should be alert about the efforts (made) by the United States to take advantage of these uprisings," said Mr. Salehi.
"Yes, the Iranian Foreign Minister is absolutely correct, the American effort to hijack these uprisings is quite natural", added Qazi Hussain Ahmad.
The former JI chief condemning the role of the US in the world politics said that it has always stood behind plots against the Muslims. "The US must stop meddling with the affairs of the Muslim states", he demanded.
The religious leader called upon the Muslims around the world to struggle collectively to foil the conspiracies against Islam.
Qazi Hussain Ahmad strongly believed that Islam is the driving force behind the ongoing uprisings in the Muslim countries.
"People of Middle East and North Africa want freedom of expression and Islamic rule in their countries", he said.
He noted that these movements should not be diverted by the Westerners.
The religious leader went on to say that the US-imposed dictators in the Muslim states have been forwarding the US anti-Islam agenda which is highly condemnable.
The Iranian Foreign Minister Ali Akbar Salehi has also said that Western countries are pursuing their own objectives in the region and added that the US influence in Tunisia and Egypt has prevented the occurrence of a revolution.
"The US efforts in Libya have so far failed to bear fruits," Salehi stressed.
On February 11, the popular revolution in Egypt, which started on January 25, ended the three-decade-long rule of the US-backed dictator Hosni Mubarak.
Other pro-democracy uprisings have also flourished in Bahrain, Yemen and Libya as more Arab countries are expected to witness similar popular revolts.